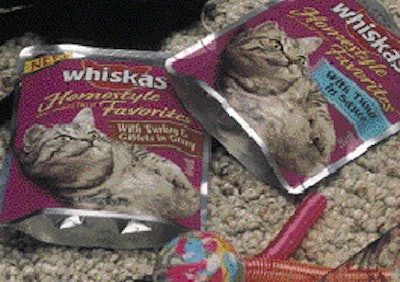 The Vernon, CA, company's Whiskas Homestyle Favorites(TM) are sold in a Flavor-Lock(TM) pouch.
When asked, the company wouldn't provide any details about the packaging materials or machinery used. Alice Nathanson, a company spokesperson, says, "We're in a highly competitive market and don't want to say anything more" than the pouch has "enjoyed strong consumer response." Limited marketing details contained in a press release describe the new product line as "a wet cat food that comes in a revolutionary foil pouch . . . that seals in flavor . . . and offers owners easy-open tear-and-pour convenience."
Arrows positioned at the front and back of the two pouch sides show users where the easy-to-open tear notches are located. Graphics on the back panel instruct users to shake the pouch to settle the food, then tear the pouch open and pour the food out, without the use of a fork.
This pouch represents one of the first retort pouches for wet pet food in the U.S. According to industry sources, Kal Kan uses pre-made pouches produced on Nishibe equipment, then filled and sealed on machinery from Laudenberg, using retort sterilization chambers from Surdry. Nishibe, Laudenberg and Surdry are all represented in the U.S. by Profile Packaging (Sarasota, FL).
Companies in this article