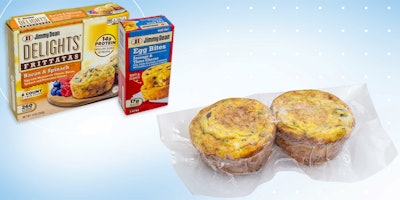 Following on the heels of a successful collaboration with Amcor on its Instant Pot Meal Kits in 2022, Tyson Foods has introduced another new mono-material flexible film package, this one for its Jimmy Dean egg bites and frittatas, that allows for store drop-off recycling while providing functionality comparable to the multilayer, multi-laminate format it replaces.
Tyson's Instant Pot packaging uses Amcor's AmPrima PE Plus Recycle Ready Pouch, made from a proprietary polyethylene film that Amcor says delivers high levels of clarity, stiffness, and heat and abuse resistance while also being recyclable. In addition, it says that PE Plus does not compromise filling performance, graphics or printing, or barrier properties. The new vacuum packaging for the Jimmy Dean breakfast products—said by Amcor to be a first-to-market solution—also uses AmPrima PE Plus, but in a forming/non-forming film application.
---
---
According to Tyson Foods Senior Director of Packaging Jeff Czarny, in its quest to design more sustainable packaging for its products, Tyson Foods is focusing on specific packaging formats and specification requirements. "The packaging format used for these products [egg bites and frittatas] is widely utilized across the Jimmy Dean product portfolio as well as other brands at Tyson," he says. "In working with Amcor, our goal has been to develop packaging technologies that can potentially be scaled across a wide variety of products and can help support Tyson Foods' work towards the company's sustainability goals."
The original packaging for the egg bites and frittatas was constructed of a polyamide-based forming web and an EZ-peel laminated non-forming film with an oriented PET outer layer. The polyamide provided formability and toughness, while the OPET layer offered heat resistance and stiffness. With the new packaging, Tyson wanted a film construction that would qualify for store drop-off recycling per the APR Critical Guidance test protocol for PE films, while performing at parity to conventional films on its existing packaging equipment, matching current speed and waste requirements.
---
---
Development and testing of the new film was conducted by Tyson at the packaging innovation lab and pilot plant in its Downers Grove, Ill., Discovery Center. "Engineers at this facility conducted extensive integrity testing to optimize the final package design and performance," explains Czarny. "In addition, we leveraged the packaging testing capabilities of our strategic packaging suppliers to evaluate package integrity."
Per data from Amcor's Asset life-cycle assessment tool, when compared with conventional multi-material film constructions, Amcor's AmPrima recycle-ready forming/non-forming film offers a 30% reduction in non-renewable primary energy demands, a 29% reduction in carbon footprint, and a 42% reduction in water consumption, when sent to landfill. When it's recycled through store drop-off or curbside (where available) systems, the film reduces non-renewable primary energy demands by 80%, reduces the carbon footprint by 70%, and reduces water consumption by 68%.
The secondary cartons for Jimmy Dean's egg bites and frittatas carry the How2Recycle label, which instructs consumers on how to recycle the components of the package. PW
Companies in this article