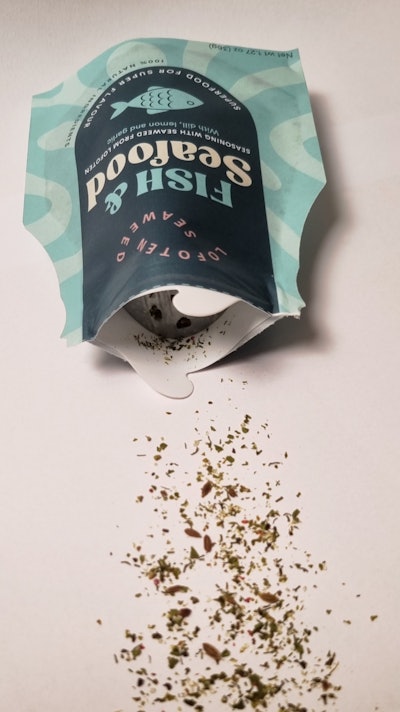 Packaging innovation comes in all shapes, sizes, and materials. Sometimes it also has a way of surfacing in out-of-the-way and unexpected places. Like the Lofoten Archipelago, a remote and incredibly beautiful part of Norway that juts out into the Norwegian Sea way up in the northwest corner of the country. That's where Angelita Eriksen and Tamara Singer co-founded Lofoten Seaweed back in 2016.
How did this small startup become a first adopter of a new packaging technology? It goes something like this. Eriksen was born in a small fishing village in Lofoten, so she knows the Arctic waters and coastline. Singer grew up in New Zealand, where, thanks to her Japanese mother, both algae and seaweed—increasingly viewed these days as "superfoods"—were everyday fixtures on the menu. The friendship between these two women and the combination of their backgrounds led to the launch of their business: wild-harvesting underwater plants by hand, drying them in a specially developed drying room, and packaging them for sale in specialty shops as well as in the Continente chain of supermarkets in Portugal. Recently this women-owned startup became the first in the world to commercialize an innovative pouch technology called Push & Dose Sprinkle Pouch system.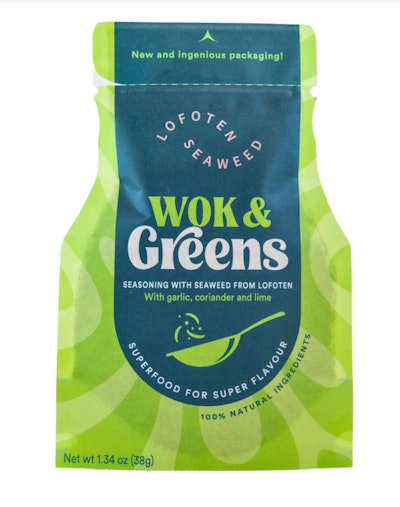 Push & Dose is a bottom-gusseted standup pouch with a perforated tear-off top that holds 1 to 3 oz of product depending on product density. It lets users release sprinkles or spices or fish food or just about any other flake-type product by simply inverting the pouch and squeezing the top two corners toward the center. Inside the pouch is a food-grade membrane heat sealed to the pouch material much like a roll-fed zipper reclosure feature is applied to a pouch. Laser-cut into this membrane are slits that widen into holes when you squeeze the top of the pouch, thus releasing product. The holes narrow back down to slits when the consumer stops squeezing. While this is no hermetic seal, it's effective enough to keep the dried spices inside the package in such good shape that best-if-used-by dates are typically 18 months. (Click here to view a Push & Dose Sprinkling Pouch video.)
It wasn't the Push & Dose packaging format that Lofoten Seaweed first launched with. The firm in its early days relied on a conventional paperboard canister for Smoked Seaweed Salt or a windowed folding carton for Seaweed Tagliatelle. Then at a food show in Oslo in 2019, Eriksen and Singer met Dag H. Gundersen, CEO of Fimtech AS, also a Norwegian firm. Gundersen had been working on a pouch with an integral sprinkling feature for years, and by the time he met Eriksen and Singer he'd gotten serious buy-in from HDG, the German maker of hf/f/s systems, which agreed to be the exclusive maker of machinery designed to fill Push & Dose pouches from rollstock. When Ericksen and Singer saw the Fimtech Push & Dose, recalls Singer, "We just fell in love with it because it would let us develop new products and put them in a format that was better suited to supermarket channels than the high-end gourmet channels we were in at the time. I think Fimtech gave us some pretty competitive pricing, in spite of our relatively low volumes, because they needed to have someone start using the technology on a commercial basis. They even installed a HDG machine in their facility to fill the pouches for us."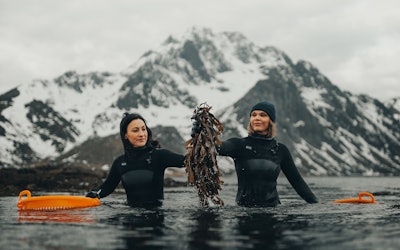 Here, in a greatly simplified version, is how all the parts come together. The patented Push & Dose membrane that has the laser-cut slits through which product can be sprinkled is made by Fimtech. This membrane is fed from reels into the HDG hf/f/s machine in a manner similar to what we see in the application of roll-fed zipper reclosure features. Fimtech makes these reels on specialized equipment from two pieces of polyester and one piece of a special membrane material from Exxon Mobil that is an elastomeric rubber. The membrane material is married to the two pieces of polyester by way of ultrasonic welding, the slits are laser cut into the membrane material, and out comes a reel of Push & Dose "units," enough for about 9,000 pouches. This reel is fed into the HDG hf/f/s machine that makes pouches from rollstock provided by Graphic Packaging. The rollstock is a Fibrecote 50/8/50, which is a two-layer adhesive lamination of 50g/m2 paper and a PE/EVOH/PE coextrusion. Graphic Packaging prints the paper on an HP digital press.
Singer says she's proud to be an early adopter of this new packaging format, noting the sustainability advantages that come with just about any flexible packaging solution that replaces rigid packaging like canisters or jars. "And because they're slimmer and less costly to ship, they'll make it easier to ship our product around the world," she adds. "We have a big vision."
One final observation. As the distributor of HDG equipment in North America, Alliedflex is able to offer the Push & Dose concept in the North American market. In fact, the Push & Dose pouch will be the featured technology at the Alliedflex booth at PACK EXPO Las Vegas, to be held at the Las Vegas Convention Center Sept. 11 to 13. PW
Companies in this article
Videos from Graphic Packaging International