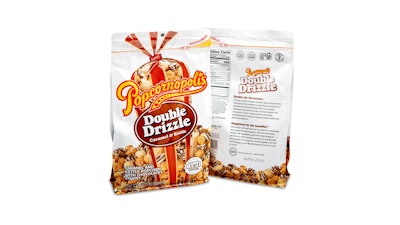 Popcornopolis is known for its gourmet popcorn in "wildly delicious flavors," made from American-grown, non-GMO corn, and packaged in an iconic clear-film triangular tube. In early 2020, the company approached long-time packaging supplier Bryce Corp. to develop a new packaging option for its products—one that could be merchandized in a variety of retail outlets, maintain the integrity of the popcorn, stand out on shelf, and give consumers the option to reseal the contents. Says Popcornopolis Senior Brand Manager Paige Robinson, "With that in mind, we wanted to delight the customer and ensure their second snacking experience was as delicious and fresh as the first."
The resulting package from Bryce is a Totani flat-bottom, stand-up "Box Pouch" made from a multilayer, high-barrier film construction, printed in high-definition flexo, and fitted with a Presto Fresh-Lock press-to-close zipper. Said by Bryce to be "truly one of a kind in the segment," the exquisitely rendered Popcornopolis Double Drizzle Pouch is the winner of an FPA Gold Award for Shelf Impact.
Shares Bryce Corp. VP Research and Development Patrick Clark, Bryce's goal for the functionality of the package was to create a structure that improved product freshness and shelf life via excellent moisture, oxygen, and light barriers and allowed for package integrity throughout distribution. To meet these requirements, it selected a five-layer, extrusion-laminated film, made from PET/white opaque polyethylene/metallized PET/PE/linear low-density PE. Explains Clark, the layers were chosen, respectively, for high print quality, heat stability for pouch manufacturing, and high tensile strength; adhesion, stiffness, opacity, and puncture-resistance; moisture, oxygen, and light barrier and opacity; adhesion and puncture-resistance; and high seal strength, puncture-resistance, toughness, and hermeticity.
---
---
The box-pouch style, manufactured by Bryce on a Totani Box Pouch machine, offers a number of advantages for the Popcornopolis brand. Among them, says Clark, is shelf stability, as the sturdier base prevents tipping, "spectacular" on-shelf presentation, a larger primary display panel and two side panels for a total of five printable surfaces, and an easy open-and-reclose feature—a first for the ready-to-eat popcorn category—that not only provides consumer convenience, but also helps reduce food waste.
For the bag graphics, Popcornopolis created a design incorporating the brand's iconic tube packaging. Says Clark, "Converting the cone-shaped pouch to an opaque structure required focused attention to detail to create an image on all sides of the box pouch that accurately depicted the delicious popcorn inside."
Because the structure is different on the gussets and the front and back panels, Clark explains that the job required two different color separations "The images had to match visually as they cascaded across the different panels of the package," he says. "Using Expanded Color Gamut separations in the process images allowed a larger gamut and more grey levels to overcome the impact of the metallized film in the structure."
The bag is flexo-printed in nine colors, including ECG Orange and pearlescent inks. Clark says Bryce also used FM (frequency modulated) screens in the highlights to provide as much detail in the popcorn as possible. He adds that the job also required a color match of the popcorn inside the clear tube and a field of popcorn exploding outside the image.
The bag, in a 7.5-oz size, was introduced to retail in March 2021 for five indulgent popcorn varieties and according to Robinson was received by consumers with unanimous delight. The new offering is available via the Popcornopolis website, as well as in select retailers nationwide.
Companies in this article