While the Golden Arches need no introduction, it's important to remember that the global giant relies on a robust supply chain with massive suppliers that fly just under the consumer-awareness radar. Some interesting packaging innovations spring up from partners in this supply chain.
Established in 1947, Golden State Foods (GSF) is one of those partners and is one of the largest diversified suppliers in the foodservice industry. Headquartered in Irvine, Calif., the global company has more than 50 locations on five continents and supplies over 125,000 restaurants in 40 countries. It produces and distributes liquid products, proteins, produce, and dairy to leading restaurant brands around the world. According to leadership, GSF's creed and values are at the very heart of the business.
"If you spend a day at Golden State Foods, you'll not only see those things, but you'll hear the words, you'll see the behaviors where it's really what I call our company's promise, and it's our job to keep that promise," says Brian Dick, COO at GSF.
Sealed Air, a supplier of flexible packaging materials and equipment, recognized that innovation and improvement were part of its customer GSF's values. So, it recently approached the food manufacturer—along with GSF's customer McDonald's—with an innovative solution for condiment and sauce dispensing. At the time, the fast-food chain had been using rigid containers, which it said were expensive and proved to be bulky in back-of-house storage, inefficient to ship, and created operational challenges.
The iconic McDonald's brand aims to provide each customer with a consistent experience, regardless of the restaurant location. The quick-service restaurant requires portion control and efficient use of limited back-of-house space—something rigid containers couldn't provide.
A flexible packaging-based solution
The three stakeholders collaborated to develop a solution for back-of-house condiment dispensing, called FlexPrep® from Cryovac®. After careful testing, iteration, and a partnership with Franke Foodservice Systems, the solution became ready for prime time in 2021. The dispensing system has earned awards from the Association for Dressings & Sauces, and more recently, GFS's Liquid Products North America division was recognized from within with an Innovation Award.
FlexPrep portion-dispensing pouches are formed and filled using Sealed Air's unique equipment at GSF facilities in the U.S. Golden State Foods then distributes the final package to its customer's locations where back-of-house employees use the pouches, paired with the custom dispensing unit, to provide portion-controlled consistency for each meal.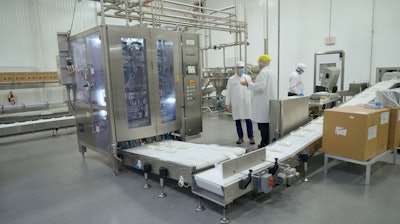 Packaging system structure
"Two coextruded films are used to create the final flexible package. This package is recycle-ready, as it has passed APR RIC4 testing protocol demonstrating compatibility in mechanical recycling," says Jaime Hansen, Director of Marketing, Fluids, Sealed Air.
"The clear body material [A] and blue spout [B] [see primary photo on top of this webpage] are both multilayer coextrusions containing polyolefins and polyamide materials—all of which are designed to provide critical abuse performance and critical barriers to oxygen, should the application require it. The blue spout is precisely designed to open under a specific amount of force, only then allowing the pouch contents to exit the package. This technology enables the pouch to remain hermetically sealed until its point of placement in the dispenser and advancement of the plunger, which through pressure, opens that small area of the package."
The blue spout is a frangible seal area of the package permitting the evacuation of product when pressure is applied by the dispensing device. While the blue spout keeps the package sealed during distribution and storage, it's easy enough to open at the correct time to allow for dispensing. The pouch is loaded into the dispenser with the spout down, and the tab is placed into the opening. This blue spout is approximately 1-in. wide and cut to be 1.25-in. long, then applied to the body material during the form/fill/seal process on the packaging equipment.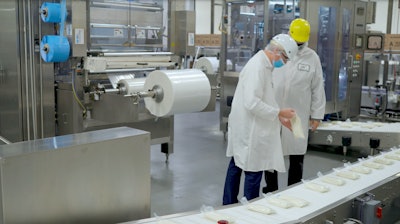 "We have two body materials we offer for this solution," Hansen says. "The main difference between them is the level of barrier delivered. The specific applications today with GSF use a medium-barrier material."
In order to form and seal this package format, Sealed Air says an operator will need a Cryovac brand FP2052 or FP3002 vertical form/fill/seal system. The main selection driver between the two models is speed. The FP2052 produces at 90 packs/min, double the output of the FP3002 (45 packs/min). The package is heat sealed, which does not impact the product, according to the company.
In this application, a double-walled corrugated case constitutes secondary packaging as it leaves GSF for transport to customers like McDonald's. The pouches are collated into groups of five and dropped into the case such that the final pouch configuration is five across by six high, or 30 20-oz packages per case.
Sustainability story
As mentioned, the pouch is recycle-ready. The unfortunate circumstance is that, today, the commercial infrastructure does not exist to handle food-contaminated flexible packaging. So, these pouches' end of life currently is the same as the incumbent: landfill. They still make for less overall waste to landfill, when comparing against traditional rigid alternatives like paperboard canisters, according to Sealed Air.
But the FlexPrep portion-dispensing pouches deliver several sustainability benefits across their lifecycle. Compared to a paperboard canister format, it provides an 85% reduction in package weight, yield improvement of up to 10%, more product per pallet, and fewer trucks on the road, resulting in an overall decrease in greenhouse gas emissions over the life of the product, according to the company. There's also less waste thanks to improved shelf life.
"Shelf life is determined by each customer and is specific to each application," Hansens adds, "but we have found as much as a 2x increase in shelf-life with a transition to CFP from a paperboard canister."
Additionally, FlexPrep Portion Dispensing pouches are Designed for Recycling (D4R) and approved for labeling as RIC#4, polyethylene (PE). Sealed Air evaluated this material for recyclability following international protocols published by the Association of Plastics Recyclers (APR) for benchmark testing of flexible plastic packaging, and this package has demonstrated compatibility with the PE flexibles mechanical recycling stream.
Results
Today, GSF packages more than 250,000 pounds of sauce per day using just three Cryovac brand FlexPrep portion-dispensing systems with plans to install additional systems. After moving from the prior rigid format to FlexPrep portion-dispensing systems, GSF's COO Brian Dick says the company has benefited from a decreased equipment footprint, which has created valuable floor space. It has also been able to reduce labor requirements, with single-operator functionality. And related to sustainability, the company has realized decreased shipping costs from lower material weight.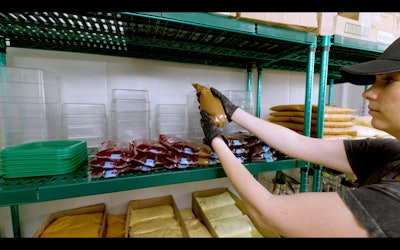 "We're so thrilled to bring this exciting solution to life, as we've innovated together with McDonald's, our customer partner of more than 65 years, around a shared vision for the future of sauce-dispensing technology," says Eric Treon, Group VP, global McDonald's business unit at GSF. "Our trusted, values-driven partnership with McDonald's and longstanding, collaborative relationship with Sealed Air enabled GSF to successfully pioneer this innovative solution in our customer's U.S. restaurants and prove its potential as a revolutionary innovation for the global quick-service restaurant industry."
Speaking of GSF customers, the iconic fast-food chain in the partnership has also been pleased with the switch to Cryovac brand FlexPrep portion-dispensing pouches because of the demonstrated value from an improved sustainability profile, higher product yield, more efficient use of back-of-house storage, and increased optimization for back-of-house operations.
"What began and was proven in the U.S. to improve efficiencies, reduce waste, heighten sustainability, and ultimately reduce cost has steadily gained confidence throughout the McDonald's system as the desired solution that will benefit owner/operators around the globe," says Hope Bentley, Senior Director, Strategic Sourcing, McDonald's USA.
Poised for international expansion into Canada and Asia Pacific this year, the portion-dispensing solution will soon serve up reliably rationed sauce in QSR meals on multiple continents. With the capability to support a variety of pouch sizes and condiment viscosities, the sauce server offers enhanced flexibility and seamless interchangeability for QSR's limited-time product promotions. PW
Companies in this article