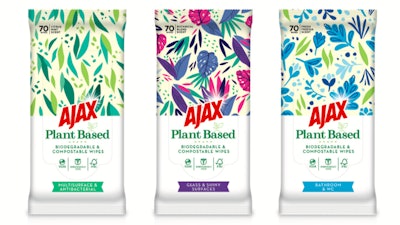 Even iconic, recognizable brands like Ajax sometimes seek a fresh design approach to packaging when they introduce something new to the market. With the backing of brand owner EU Colgate (European Union), the well-known household cleaning brand recently launched a new line of plant-based, disinfecting disposable wipes targeting Millennials and GenZers. With a little help from New York-based brand consultancy Little Big Brands (LBB), the decades-old brand showed it wasn't afraid to shake it up and target a younger demographic with bold pack design ideas.
"Wipes are largely used by younger consumers that we discovered desired more sustainable solutions; this was one of their top pain points in using wipes, as they realized every cleaning action led to a wasteful tissue," says George Kechris of the Home Care Brand Team at Colgate-Palmolive. "This was also one of the reasons why some other people were not using wipes at all. In our Ajax Plant-Based Biodegradable and Compostable antibacterial wipes we were looking for a design that can convey sustainability as the core of the concept for those audiences to engage from far away from the shelf. As Ajax was not known on this format, we wanted that people discover first that there is a solution to their pain point, that this coming from Ajax, and this eco-look to come in a contemporary design that talks to this young audience and makes it so appealing to them that they feel proud to keep those wipes visible on the counter and not hidden on shelf, so at the end they can use the wipes even more conveniently—a format well known for its convenience."
Since this was an entirely new product to the brand, there was no heritage or parent packaging to borrow from in tailoring a new pack to the product. The format is new to Ajax.
"The package design for this wipe needed to lean into design codes that were appealing for a younger demographic" says Richard Palmer, Executive Creative Director, Little Big Brands. "From speaking with our target consumer in both the French and Swedish markets, we knew that we would need to deliver against a minimal design that felt simple yet chic."
That meant exploring designs that spanned across three visual territories: Eco Lush, which leveraged greens, whites, and plant-based codes; Fresh & Fun, featuring vibrant color codes that reflect the brand's optimism; and Earthy Modern, favoring earthy colors and simplified codes.
The messaging hierarchy on the pack goes as follows: 1. Ajax 2. Plant-Based 3. Biodegradable & Compostable, and 4. Variety/Use. The agency wanted to lead with brand, but clearly articulate that this was something new and different to appeal to a younger audience through graphic treatment of plant based supported by the copy itself. The patterns help elevate the eco features from a visual standpoint. The film pack uses eight colors and two varnishes to accomplish this. The closure is a self-adhesive closing design that's typical of the category. Individual wipes sit within a retail-ready style corrugated tray for merchandising purposes. While the wipe itself is biodegradable and compostable.
"The agency explored various design routes to express the design objectives in a simple way," Kechris says. "The designs incorporated audience's feedback in the early design stage and a clear winner indicated the route to pursue. The final outcome was gorgeous with the right balance of efficacy, sustainability, and great, fresh-looking design patterns."
Palmer adds, "Unlike the Ajax global brand vernacular we are all familiar with, our final, consumer-validated design perfectly balances the brand's expertise, while leaning into eco cues that feel fresh and stylish."
Consumer reaction to Ajax wipes bears out the success of the design, garnering 4.5 stars on Amazon France, and having doubled sales in Europe within just two years. - PW
Companies in this article