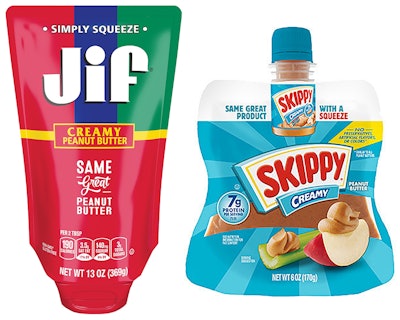 The two leading peanut butter brands, Jif and Skippy, have both launched flexible packs with squeezable functionality, launching the category into new territory.
Jif brand peanut butter from The J. M. Smucker Co., launched in June a 13-oz. creamy peanut butter in a flexible, squeezable Standcap Pouch. According to Jif, the squeezable pouch format that makes it easier for kids to serve themselves, for cooks to measure accurate amounts in recipes, or for parent's to precisely spread that perfect "ants on a log" snack, all without needing a knife or other utensil.
"Jif lovers enjoy their Jif in a variety of ways—in smoothies and snacks, as a key ingredient in cooking and baking, or even eating it 'straight up' with a spoon," says Rebecca Scheidler, Vice President, Marketing for the Jif Brand. "With our new squeezable pouch, we're making it even easier and quicker for Jif lovers everywhere to get their Jif fix. No more 'peanut butter knuckles' when you're trying to get the last ounce of goodness from the bottom of the peanut butter jar. No knife. No spoon. No problem!"
The new pack format represents yet another major brand to adopt the Standcap Pouch, a collaboration between Glenroy, Aptar, Viking Masek, and Coesia's Volpak and R.A Jones. Read more or watch video about the different applications using the packaging format, including as DAISY brand sour cream and Guy Gone Keto specialty condiments.
---
See it Live at PACK EXPO Connects Nov. 9-13: Hygienic Horizontal Baggers & Flow Wrappers —Advantages & Options, by Formost Fuji Corporation. Preview the Showroom Here.
---
According to R.A Jones, "Our sister company Volpak was responsible for the development of the technology, while we built the machines for our exclusive partner, Glenroy, to manufacture the pre-made pouch solution. The Standcap Pouch is patented and available only in North America through R. A Jones and Glenroy. We developed such partnerships to ensure economical solutions for retailers of any size and product volume demand. Additionally, we have developed a complete supply chain so that organizations of any size can test their product in the pouch with minimal upfront cost to them."
Flexible squeeze pack part of new line
Meanwhile, also in June, makers of Skippy peanut butter Hormel announced the launch of three new packaging formats, a lineup it says providing consumers even more ways to add high-protein, plant-based functional foods to their diets. Most notably among them is another flexible peanut butter pack. Hormel worked with ProAmpac to develop the flexible peanut butter pouch that allows for easy snacking, peanut butter on the go, and easy dispensing with less mess.
"We know consumers are looking for new ways to enjoy the peanut butter they love while still delivering on taste and product benefits," says Jennesa Kinscher, Skippy brand manager. "We are thrilled to bring the first mainstream squeeze peanut butter and squeeze natural peanut butter spread to the category. It has already become a staple in our home for easy snacking, without the mess!"
---
See it Live at PACK EXPO Connects Nov. 9-13: Reduce Labor Needs with FMH Flexible Powered Roller Conveyors, by FMH Conveyors. Preview the Showroom Here.
---
The new 6-oz. squeezable format launched carrying two peanut butter varieties: Skippy Squeeze Creamy Peanut Butter, and Skippy Squeeze Natural Creamy Peanut Butter Spread. The pouch was specifically designed for portability and its ease to squeeze for the whole family. The remaining new formats include a no-sugar-added line available in 16-oz peanut butter jars, and an added-protein variety, with three additional grams of plant-based protein per serving available in 14-oz squat jars. —PW
Companies in this article