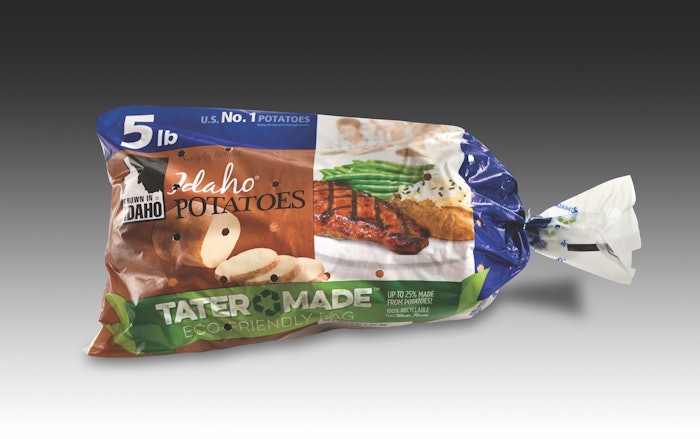 Wada Farms, with the tagline, "The Grower That Changed the Game," is a family-run farm that supplies potatoes, onions, and sweet potatoes to retail, foodservice, and wholesaler partners throughout the U.S. under its own name as well as for private label. One of the largest suppliers of potatoes in the country, Wada was founded in 1943 by Japanese immigrant Frank Wada on a few hundred acres and now occupies 30,000 acres in Idaho Falls, ID.
From the beginning, both Frank and his wife, Agnes, were committed to growing the best and most nutritious foods. That passion inspired the company's current sustainability philosophy, which motivates every part of its farming and packaging operations. Among its initiatives, Wada employs sustainable farming through the wise use of land resources, water conservation and management, careful herbicide and pesticide applications, and soil-enriching crop rotation practices.
According to company President Kevin Stanger, Wada is always looking for opportunities to promote and provide better, more sustainable packaging for its products as well. In 2013, when resin producer BioLogiQ began marketing its NuPlastiQ® thermoplastic starch (TPS) biopolymer, Wada decided to work with the supplier to design a bag for its Idaho Potatoes that incorporates the material.
Today the potato starch-based "Tater Made" bag can be found in Walmart as well as in other retailers in Idaho and Colorado and provides the same, if not better, strength, printability, and appearance as Wada's traditional petroleum-based polyethylene bags, with a 20% to 30% reduction in film.
TPS offers sustainability benefits
NuPlastiQ is part of the TPS category of biopolymers, which are derived from carbohydrates such as potatoes, tapioca, corn, maize, or rice, among others. Starch is a naturally-occurring biopolymer that, once plasticized, can be thermally processed and handled on traditional extrusion, injection-molding, blow-molding, or thermoforming equipment. TPS is then blended with polymers such as PE or polylactic acid to create a biodegradable alternative made partially or entirely from renewable resources that offers characteristics that are the same as or better than those of 100% polymer blends.
According to BioLogiQ COO Dale Brockman, what differentiates its potato starch-based material is that BiologiQ converts high-crystalline starch powder into a low-crystalline, mostly amorphous, thermoplastic resin. NuPlastiQ is made in pellet form and contains less than 1% moisture, so it's easy to blend with petroleum-based plastic resins.
Explains Brockman, when NuPlastiQ is mixed with conventional resins, the resulting Bioblend™, or "eco-alloy," becomes a completely new molecule. "A good analogy is a real metal alloy," he continues. "If you take copper and zinc and make brass, the strength of the brass is stronger than the copper and the zinc alone. In the same way, if you blend NuPlastiQ with petroleum-based resins, the properties change. Because NuPlastiQ has a higher modulus, or strength, than most polyolefins, Bioblends can be used to make plastic products that are stronger than those made with pure polyolefins."
NuPlastiQ also offers significant sustainability advantages. Among them, up to a 50% reduction in the use of fossil fuel feedstocks as well as a reduction of 1.62 kg of CO2 per every 1 kg of PE replaced. Adding up to 30% of the material can also allow for the downgauging of sealant webs and standalone webs. In its purest form, the material is compostable, where industrial compost facilities exist. In addition, products made by blending NuPlastiQ with other resins can be designed to biodegrade, or can be designed not to, even in the presence of microorganisms.
Brockman says BiologiQ has successfully blended its TPS resin with linear low-density PE, LDPE, high-density PE, polypropylene, polystyrene, polybutyrate, polyhydroxyalkanoate, PLA, ethyl vinyl alcohol, and other materials, including post-consumer recycled resins.
TPS bag for potatoes meets requirements
When BioLogiQ began developing a bag for Wada that would replace its existing 100% PE bag with one that combined NuPlastiQ with PE, there were several requirements. According to Dr. Don Allen, Vice President, R&D, for BioLogiQ, the bag had to:
· Maintain the Falling Dart Impact strength of existing materials, "as loading the bags with potatoes approximates the same impact," and it had to maintain its strength during the process. (Falling Dart Impact, also known as Gardner Impact, is a traditional method for evaluating the impact strength or toughness of a plastic material.)
· Process on existing bag-loading machines. This required sufficient tear so the bags could be removed by weight from the wicket when full, but not before.
· Be downgauged by a reasonable amount.
· Be able to be printed with desired graphics and colors.
The first iterations were "a work in progress," says Stanger. "It took a little time for them to get it to work and do the mix correctly. The first bags that came out were cloudy-looking, not very clear."
The first bags also featured greater strength—thus a thicker film gauge—than required. In addition, the tear strength was excessive at the original thickness, so downgauging was needed to allow the bags to process on existing equipment, Dr. Allen explains.
The final bag, dubbed the Tater Made bag, was introduced to retail in 2014. It is made from 20% to 25% NuPlastiQ and 75% to 80% PE. Says Dr. Allen, this percentage provides the best balance of economics and performance, including maximizing the downgauge capabilities. Various thicknesses—from 1.1 to 1.5 mils—are used, depending on the bag size. Wada uses the film for its five-, eight-, and 10-lb bags.
In total, the film features a reduced thickness of 20% to 30%, made possible by its increased strength, and it reduces greenhouse gas emissions by up to 44% versus typical PE bag production. Initially, the bags were made from a monolayer blown film, but between 2016 and 2017, there was a move away from a monolayer construction to a co-extruded, three-layer blown film. The material can be printed using any traditional printing process without adjustments to the process.

Cost is in the ballpark
Back in 2013, when Wada was looking for a way to make its potato bag more sustainable, Stanger says that while the company looked at other biopolymer technologies, "the cost structure for those was pretty expensive." He adds, "NuPlastiQ was a little bit more feasible. BioLogiQ makes it right here in Idaho, and so it seemed to be a better fit, cost-wise.

"Most retailers we work with say they want packaging that is more sustainable, but they won't pay an arm and a leg for it. This product seemed to get us in the ballpark where we could still be competitive while providing them with a sustainable solution."

Before launching the bag in a new store, Wada will present the idea to the retail owner. Given that the bag may be "a hair" more in cost than the traditional bag, Wada lets the vendor make the decision. Approximately 30% to 40% of Wada Farms' Idaho Potatoes are sold in the Tater Made bag.

In the case of Walmart, the retailer was on board before the bag was even developed. After the packaging was in their stores for a while, it requested that Wada change the graphics to include information on the use of NuPlastiQ biopolymers. Explains Stanger, "The bag includes a logo on the clear poly that says, 'Tater Made,' and then we put a little statement on the front that says, 'Part of this bag was made from potato byproduct.'"

Wada also offers information on the Tater Made bag on its website, under its "Sustainability" tab. There, it shares that 100 million pounds of potato waste starch is produced annually just in the Northwestern United States. "Because the Tater Made bag is made from plants, byproducts from processing that would normally be wasted are now turned into products and profits for farmers," the site says. It also advises that the empty bag can returned to those retailers that accept PE film for recycling.
Feedback on the bags from consumers has been sparse, Stanger reports, as many of the Tater Made bags are used for private-label potato brands. In those cases, the retailer would receive the comments, rather than Wada. But the company has heard from retailers. "Now these companies can go out to the public and say, 'We are doing things to help reduce our carbon footprint and this is part of it,'" says Stanger. "They are very happy with the new bags."
Companies in this article