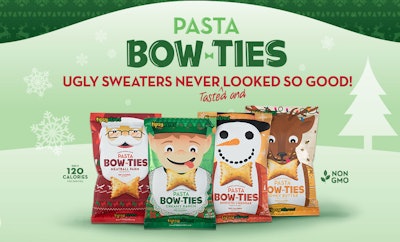 Pasta-chip snack company Vintage Italia is inviting consumers to get "chip-faced," with its new line of Pasta Bow-Ties snacks with Christmas-themed packaging. Collaborating with Tipsy Elves, a company known for its fun, outrageous holiday sweaters, Vintage Italia adorned the packaging for each of the four Bow-Ties flavors with an "ugly sweater" graphic.
Each bag features a different holiday character: Santa for the Meatball Parm variety, an elf for Creamy Ranch, a snowman for Smooth Cheddar, and a reindeer for the Honey Butter flavor. All characters are adorned with a pasta-chip bow tie.
Meanwhile, Tipsy Elves took the four characters and incorporated them into one, ugly holiday sweater, available on its website for $46.95.
Says Vintage Italia, "The idea behind the 'ugly sweater packaging' is to win the holidays with snacks that match your sweater—perfect for parties, office festivities, or family get-togethers."
The partnership began in the 2017 holiday season, and so far, the ugly sweater packaging has done more than $1.5 million in sales. The snacks are available on the Vintage Italia website and in grocery stores nationwide. A 12-pack is $47.88.
View a fun ad for the snack/sweater project here.