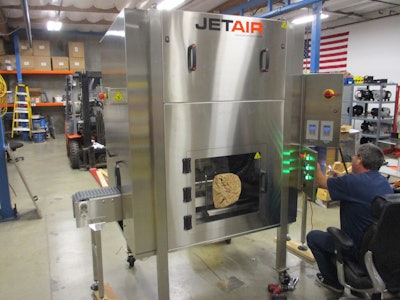 Whether the complement is the Americanized classic chicken tikka or a more authentic paneer curry or lamb vindaloo, the North American Royal brand Basmati rice goes hand in glove with East Indian cuisine.
Since 1992, Cypress, Calif. LT Foods America (LTFA), the U.S. subsidiary of Indian company LT Food, Ltd., has imported the traditional white, long-grain rice from its mills in India to markets in the U.S. and Canada.
Over the years, the company evolved from a rice distributor to a full-fledged, authentic "farm-to-fork" enterprise with comprehensive traceability responsibility. Today, the company is the largest Basmati rice seller in North America and does about $135 million of business out of the LTFA business unit via warehouses in New Jersey, South Carolina, Texas, and California to blanket the country.
New product line
The company's primary product has long been raw grain rice sack formats that range from 2 lbs on retail shelves, to 100 lbs for foodservice, to 2,000-lb units for industrial customers. But current U.S. retail trends toward convenience, plus a newfound American willingness to broaden its palate to include new flavors, has LTFA rolling out a new line of pre-cooked, pre-portioned, ready-to-heat and eat packages of the cornerstone Indian grain. The line will include plain basmati rice, as well as flavored basmati mixes containing other grains like wild rice or quinoa.
The company's Houston facility is spearheading the project, which will churn out retorted pouches. Each 240-g gusseted pouch measures roughly 5.5 in x 7 in. The premade pouches are filled and top sealed on a pick and fill machine prior to retort.
Water is used to cool down the pouches after the sterilization is complete, so they are wet as they come out of retort and pass through a checkweigher and x-ray inspector toward secondary packaging. With corrugated cases, this was a problem.
Dry pouch solution
"We needed a dry pouch, not only on the surfaces of the pouch, but also in the gusseted corners and nooks in the pouch. It's very easy to get the surface water off with air knives, but the gussets were another story," says Kaizar Colombowala, Director Technical, LTFA. "We pack them into a six-count corrugated retail-ready case, and that corrugated couldn't withstand the wet pouches."
Colombowala had two options; he could make a drying system himself, or he could start shopping.
"We did look around both in Europe as well as in America to see what was available for pouch drying on a retorted line," Colombowala says. "I had heard about JetAir previously, and when we approached them, they guaranteed that they could get the water out from the gussets. We ran a few trials and were very pleased with the results."
JetAir's pouch drying system essentially creates a tension over the top of the pouches which will, for lack of a better descriptor, pop the exterior gussets open and expose them to air nozzles. The secret sauce in this system is what the company calls its integrated dynamic hold-down feature.
"The system places the pouch between a belt and the hold-down device, and it keeps it in place while the pouch is traveling through the drying chamber," Colombowala says. "It blows air from both top and bottom, and from the side on which the gusset is located. And this hold down device assures us that the pouch will not move. It will remain in place to get blasted by air to knock all of the water out."
Colombowala and JetAir technicians only needed to hone in on the speeds and the specific amount of air and pressure that could be applied to any given pouch without distorting or damaging it in the process.
"The Jet Air has its own blower so you are not using compressed air. The system is built with variable speed drives, so you can set the speeds as required to do the job. The belt speeds are all controlled, the hold down belt speed is controlled via these variable frequency drives, and the blower capacity can be increased or decreased in order to get the proper drying done," he says. "We selected the one [model number DL1500] that would give us adequate retention time to run at 80 pouches per minute and give us the dryness that we were looking for. We were also looking for a clean, stainless steel, food grade design and Jet Air offered us that design."
End-of-line automation coming soon?
Further downstream, the pouches are manually packed into each RRP case to add a human inspection step as a failsafe, but a case erector and a case sealer introduce some level of automation into the line. An online barcode printer also prints onto cases prior to pack out.
"We don't have automatic palletizer or pallet wrapper at this time, but we plan to do that when we end up automating the pouch case packing," Colombowala says. "If after maybe six months of experience, we find that the manual inspection is unnecessary because of the performance of the line, then we would add a case packer. Then at that point we would put a palletizer on."
Companies in this article