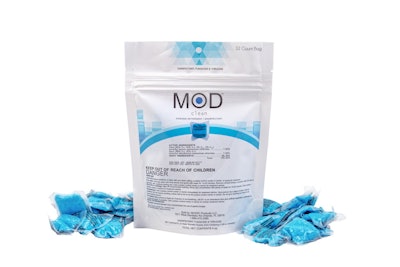 For the first time since 1947, salons, barbershops, and cosmetology schools have an alternative to liquid disinfectant for their tools. MODIFI Products LLC's new MOD Clean Disinfectant Pods use dissolvable film to deliver 0.0125 oz of powdered detergent to a standard, 1-qt jar of water. MODIFI, of Orlando, FL, was formed in 2015 for the sole purpose of developing a pre-measured, powdered disinfectant for the beauty industry that would be easy to use, ensure proper disinfecting, and create the least impact on the environment.
MOD Clean Disinfectant Pods contain an EPA-approved hospital-grade powdered disinfectant that is formulated to kill germs, viruses, bacteria, and fungus.
"This product will revolutionize the beauty industry, as prior to the launch of MOD Clean, the industry had been reliant on only one rather cumbersome option for stylists to disinfect their tools and keep them up to industry and inspector standards," says Bennet Parke, CEO of MODIFI. "The fact is, the majority of stylists and barbers mix their disinfectant improperly. MOD Clean solves this problem by creating a pre-measured disinfectant pod that makes perfectly measured and safe disinfectant every time."
Parke explains that in engineering the primary packaging for MOD Clean, MODIFI briefly considered foil packets. "But based on the need for consumer ease and low environmental impact, we chose a water-soluble film," he says.
The biggest challenge, Parke adds, was finding a film that was compatible with the product's quaternary disinfectant properties and also had a fast solubility time. MODIFI ultimately selected a 100% water-soluble polyvinyl alcohol film from a proprietary supplier that—along with the disinfectant—dissolves after a few seconds when dropped into water.
For secondary packaging, MODIFI chose what it felt was a more environmentally-friendly option than the rigid container it originally considered. The package, a flexible stand-up pouch made from 48-ga PET/adhesive/400-ga linear low-density polyethylene, holds 32 pods—the equivalent of one-half gallon of liquid disinfectant. Significantly reducing the weight of packaged salon disinfectant, the pouch weighs 5 oz versus 4 lb for the half-gallon of liquid disinfectant, while a 12-bag case of 32-ct pods only weighs as much as one bottle of liquid.
"We chose the pouch because it was printable, and it has a small landfill footprint as well as a small physical profile," says Parke. When disposed of in a landfill, 360 empty pouches equal just one empty liquid disinfectant container. "Our customers are very environmentally-savvy, and many make purchasing choices based on positive environmental features that a product they are interested in provides," Parke adds.
For storage ease, the pouch has a reclosable zipper. Pouch graphics are clean, modern, and simple, with a focus on a photo of the MOD Clean pod. Because MODIFI produces an EPA-regulated product, the company needed to be compliant in its label requirements, which dictated the fonts and most of the verbiage used on the package.
MODIFI uses a co-manufacturer/co-packer for the product, which Parke says allows them to work with some of the most knowledgeable individuals in the packaging industry and gives them the ability to use state-of-the-art equipment to package their product.
MOD Clean Disinfecting Pods were first introduced in June 2016 at a beauty industry trade show. Today, MODIFI has more than 100 professional beauty distributors, and the pods are available in more than 1,200 professional beauty stores in the U.S. According to Parke, the cost for a 32-ct pouch is comparable to the price of a 1-gal bottle of liquid disinfectant.