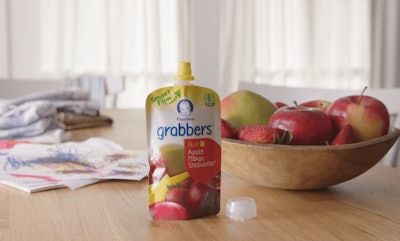 Gerber Products Company has announced that they are now featuring the exclusive Smart Flow™ spout across both Organic and Grabbers baby food pouches. The Smart Flow technology was developed following consumer research that found moms wanted a pouch that could help in reducing mess so the food gets into their little ones' tummies and not everywhere else.
The Smart Flow spout's opening is customized based on what's inside, so it helps provide the appropriate amount per squeeze. Also, because many of those hungry and excited little ones are feeding themselves, Gerber introduced soft sides and rounded edges that are gentle on their mouths and hands.
"At Gerber, we always start by listening to our customers—parents and babies! Our Smart Flow spout is just one example of how we are constantly looking for innovative ways to help nurture happy and healthy babies," says Aileen Stocks, Chief Marketing Officer. "As a mother of two, I know how important and convenient pouches are for parents. Nothing is ever 100-percent mess free when it comes to little ones, but our new spout helps make mealtime a positive experience for everyone."
Over the last five years, pouches have been a steady growth driver for the infant food category, becoming a staple item for moms and their babies. Gerber's new Smart Flow pouch began to appear on shelves at the end of 2016 with most major retailers having it available in stores now.
"At Gerber, we seek to make food that is nutritious and delicious for your little one," says Sarah Smith-Simpson, Senior Scientist of Child Development and Consumer Insights for Nestlé Nutrition Meals and Drinks. "Our focus with the Smart Flow spout was to develop a feature that combines the nutritious food in our pouches with better function. The new opening in our spout helps control the flow of food, giving those tiny toddler hands more control over the amount that comes out without letting too much ooze out on their clothes, tray, or floor."
To kick off the launch, Gerber is releasing a new, integrated advertising campaign called #PouchWin.
Companies in this article