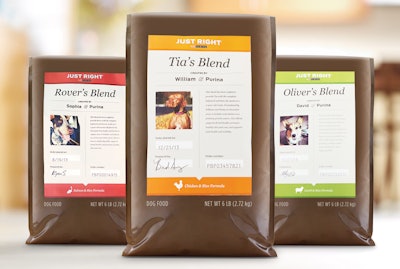 With its Just Right by Purina product, launched in fall 2014, Nestle Purina PetCare is hoping to offer consumers the same level of choice when it comes to feeding their dogs. The Just Right web-based brand combines a pet owner's knowledge of their dog with Purina's nutritional expertise to produce a personalized feeding experience, delivered in a package that is also made to order.
According to Purina, research has found that nearly 70% of dog owners want a food to help support their dog's unique needs and preferences. "Dog owners are looking for ways to provide the best solutions for their dogs," says Brian Lester, Director of Marketing for Just Right. "By inviting dog owners to tell us things only they can know about their dogs, we are able to provide a personalized blend optimized to that dog's individual nutritional needs."
As Lester explains, dog owners help create the custom blend by visiting JustRightPetFood.com, where they are asked to answer specific questions about their dog, including age, activity level, breed, and body condition. Also taken into account are a dog's nutritional needs such as weight management and a dog's skin and coat health. During the process, pet owners can select chicken, lamb, or salmon as the first ingredient for their dog's food, as well as whether grains and soy should be included. Based on the information collected and a proprietary algorithm generated by Purina, owners receive a recommendation for a formula personalized to help support their dog's health.
Once the product has been formulated, customers can name the blend and can upload a picture of their pet to be included on the label. Products are packaged in 6-lb multilayer plastic bag, selected to maintain the freshness of the product and provide a good surface for label adherence.
At the point of fulfillment, four-color product labels are printed using a Canon C9270 PRO laser printer and are applied to the bag. Also included on the label is the signature of the person responsible for creating and packaging the personalized blend as well as information specific to the inputs provided by the pet owner, including key nutritional benefits and personalized feeding recommendations.
Turnaround time is from seven to 10 days from order date, or less. "Our current delivery times are averaging between three and five business days, depending on the location to which it is being shipped," says Lester.
Consumers can order the product in 6-, 12-, or 24-lb quantities, for a cost of $24.99, $37.99, and $62.99, respectively. As customers near the end of an order, Purina electronically sends an auto-reminder that allows them to re-purchase the blend with one click.
Companies in this article