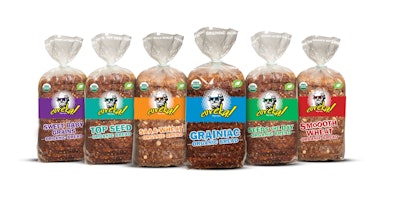 In introducing its line of three organic bread varieties to East Coast consumers, Eureka! Organic Bread rolled out new packaging as well that complements its brand messaging of "being full of everything consumers want and less of what they don't," says Mike Jensen, Assistant Brand Manager at Bimbo Bakeries USA (BBU), owner of the Eureka! brand. The new polyethylene bread bag is made from 36% bio-based material, Braskem's Green PE, made from sugarcane.
"Consumers react positively toward companies that use sustainable packaging," says Jensen. "So as consumers were discovering Eureka! for the first time, we thought it would be the perfect time for them to also discover this new packaging technology. Braskem's Green PE technology is in line with the wants and needs of the organic consumer."
Eureka! Organic Bread is baked with organic whole grains and high-quality ingredients, and contains no artificial colors, preservatives, or high-fructose corn syrup. Packaging for the product displays the USDA Organic and Certified Vegan shields. First introduced in 2012 in 27-oz packaging, the bread made its way from the West Coast to the Pacific Northwest, and then to the East Coast in September 2014 in the new packaging, sold in major grocery retailers.
Beyond the marketing advantages of the bio-based bread bag, Eureka!'s new packaging provides significant greenhouse gas reduction benefits: According to a lifecycle analysis conducted by Braskem, for each ton of Green PE produced, approximately 2.15 tons of CO2 equivalent are captured from the atmosphere. In addition, because Green PE provides the same properties as fossil fuel-based PE, it can be seamlessly integrated into the bag-making conversion process and is 100% recyclable.
"There were very few drawbacks to switching to Green PE, because bio-based PE is identical to petrochemical PE in both mechanical and performance properties," confirms Jensen. "The only difference is that bio-based PE comes from 'new carbon' plant based versus 'old carbon' petrochemical based."
BBU settled on 36% bio-based content as a place to start. "It's a balance to get the material to have the right quality," says Jensen. "At the 36% level, there is enough material in the bag to make an impact on its sustainability."
While Jensen admits that there are costs involved with adopting the new technology, he believes that as market opportunities and volumes grow, these costs will begin to decrease. Eureka! is the first BBU brand to employ Green PE; the company is closely monitoring the film's performance and consumer feedback before expanding it to other brands.
Companies in this article