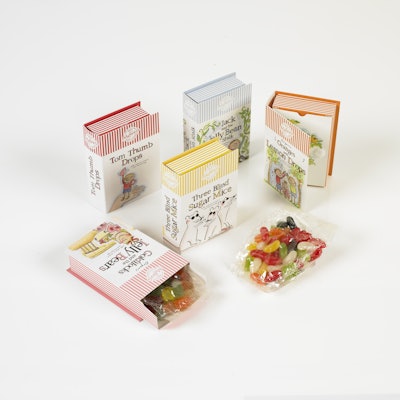 Set up by Sarah Cadman, who has a philosophy of using natural ingredients wherever possible, U.K.-based Miss Muffet & Co. selected compostable cellulose-based NatureFlex™ from Innovia Films to wrap its range of fairytale and nursery rhyme-inspired premium confectionery.
Cadman says, "It was really important for Miss Muffet & Co that our packaging had the lowest possible impact on the world around us and it had to clearly show the contents. We chose transparent NatureFlex primarily due to its environmental credentials. At the same time, it keeps our sweets tasting and looking good."

NatureFlex™ films are certified to meet the European EN13432, American ASTM D6400 and Australian AS4736 standards for compostable packaging. The wood pulp is sourced from managed plantations from referenced suppliers operating Good Forestry principals (FSC or equivalent). The renewable bio-based content of NatureFlex films is typically 95% by weight of material according to ASTM D6866.
NatureFlex has been confirmed as suitable for emerging "waste-to-energy" techniques such as anaerobic digestion, aiding the diversion of organic wastes from landfill.

Transparent NatureFlex NE is used to flow wrap the sweets, which are then packed in beautifully designed, storybook-shaped "keepsake' boxes," with drawings by children's illustrator Rosie Brooks. The titles (stories) of sweets in the range include: Three Blind Sugar Mice, Oranges and Lemon Drops, Jack and the Jelly Bean Stalk, Goldilocks and the Jelly Bears and Tom Thumb Drops.