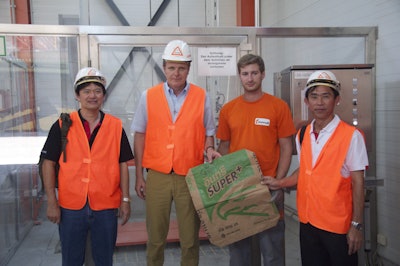 In August 2010, Siam City Cement (SCCC) with the help of international paper and packaging group Mondi successfully implemented a high-porous bag construction for 50-kg cement packaging in Thailand. This two-ply 80-gsm construction for 50-kg cement bags then became the benchmark throughout Southeast Asia. "Now, with SCCC's and Mondi's shared passion for innovation, another development has been successfully implemented: a two-ply 70-gsm Advantage Select sack kraft paper for all 40-kg cement bags," explains Clemens Stockreiter, CEO of Mondi Kraft Paper Europe & International.
Mondi and SCCC have introduced a bag made from high-porosity sack kraft paper that meets the requirements for quick, dustless filling and tough handling. "The new two-ply 70-gsm construction is considered to be the most cost-effective and best-performing 40-kg cement bag solution in Southeast Asia and provides SCCC with a range of benefits throughout the supply chain," explains Gerry Gosen, managing director of Mondi Packaging Paper Sales Asia.
SCCC, 35% owned by Holcim, is one of the largest cement manufacturers in Southeast Asia, with the capacity to pack 15,000 tons per day of bagged cement. Mondi's sack kraft paper grade Advantage Select has been used to successfully implement new two-ply constructions throughout the Holcim group. Two-ply high-porous bags manufactured out of Advantage Select are said to be lighter and stronger and deliver cost savings to both bag convertor and cement producer.
According to Mondi, Advantage Select sack kraft paper has been adopted by the majority of converters and cement producers in Southeast Asia.
Companies in this article