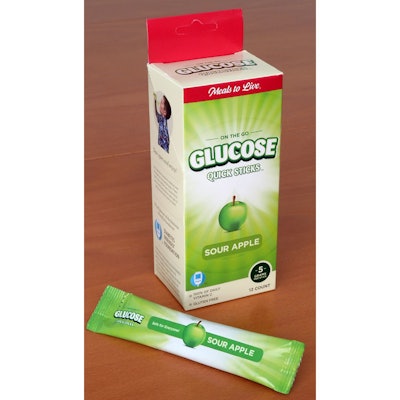 For diabetics, managing blood glucose can be a matter of life or death. Readings too high or low can be dangerous. Low blood sugar can cause hypoglycemia, with symptoms such as nervousness, sweating, intense hunger, trembling, weakness, palpitations, and speaking difficulty. These symptoms can lead to a coma or seizure if blood sugar isn't raised.
Managing that process can be complicated—and sometimes embarrassing—for kids, says Cole Egger, founder and CEO of Meals to Live. "Children understand that they have to take their insulin shots because they know how sick they get when and if they don't," he says. "But the thing they don't always understand is why they have to take these large tablets or a hot liquid drink that's been in mom's purse every time they need to get their blood sugar back up. Oftentimes, it's embarrassing for a kid to get their blood sugars back up. They don't want to do it in front of a friend, and the products don't always taste the best, especially if they have been in mom's purse, or they have been broken.
"They may resort to eating candy or drinking a coke or getting them a bag of chips, which is a very unhealthy way of going about getting your blood sugars up. So the moms asked, 'Why can't you make something that the kids don't mind taking that helps raise the blood sugars, but is not embarrassing for them and actually seems like a reward to them?' Based on that, we developed Glucose Quick Sticks." The 2.5-mil stick packs are printed flexographically and converted by McDowell Label.
Egger explains, "These are like a pixie stick. We were able to take and put dextrose into a naturally flavored powder form that you pour directly into your mouth. That way it absorbs fast in your system and you don't have to mess with the water, which is one of the biggest complaints that we heard. We have had phenomenal response from the diabetic community."
Companies in this article