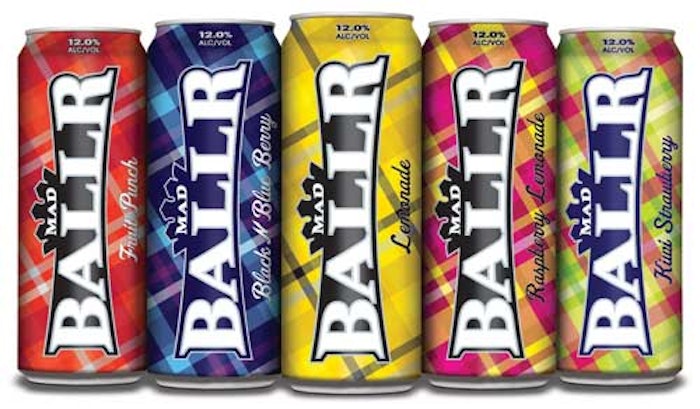 Don Deubler conducted a category audit and talked with consumers, uncovering an unmeet need for a new product segment: elevated-alcohol malt beverages. His Chicago-based company, Atomic Brands, is filling it with a new product, Mad Ballr. The flavored-malt beverage is 12% alcohol by volume, and packaging is crucial to the upstart company's marketing effort.
"The packaging is what's going to drive trial. It's the taste that's going to draw the loyalty and reorder," Deubler says. Atomic Bands worked with the Tru Creative Group to create the branding concept.
Deubler is introducing Mad Ballr in five flavors: Fruit Punch, Black N Blue Berry, Lemonade, Raspberry Lemonade, and Kiwi Strawberry. Packaging supports the product attributes as timeless and fashionable. On cans provided by Rexam, the brand shines with a plaid design on a shrink-sleeve label. The film and design were provided by CL&D Digital.
"We wanted it to have a fashion feel," Deubler explains. "Plaid is a very widespread and timeless pattern that's always either popular or super-hot. It never really goes out of style."
CL&D applied 50-micron PETG clear shrink labels to the silver cans. The labels are digitally printed in four colors plus a white base coat for opacity. Stephanie Cee, CL&D Digital project manager, says the outline around the brand name, as well as selected areas in the plaid pattern, were left unprinted on the clear label so the silver of the can could embellish the design.
The labels are reverse-printed with a special varnish so they slip easily onto the cans.
Companies in this article