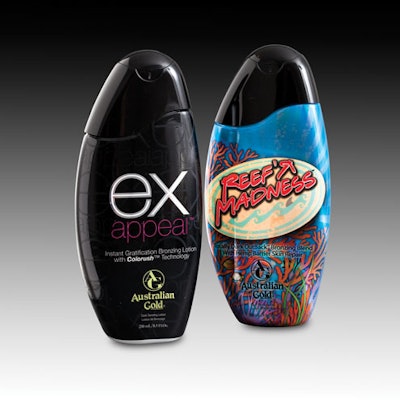 The company did not disappoint Flexible Packaging Association judges with the launch of shapely squeeze bottles for its Ex Appeal and Reef'r Madness bronzing and tanning lotions.
The design merited a Gold Award in the Printing Achievement category for dynamic package labels and design, provided by CL&D Graphics Inc..
To assure visibility in the sun and skincare category, in which festively decorated packages prevail, success requires more than just offering product value; the packaging has exhibit marketing flair. Australian Gold's 8.5-oz bottles reach this loftier branding status with label designs that use spot cold foil technology for reflectivity on the labels and matte varnishes for texture. The textured labels also provide functional value by enabling consumers to squeeze product from the bottles without worrying about moist hands slipping off the labels.
The richly colored labels are printed flexographically using UV-based and water-based inks, as well as proprietary cold-foil applications. The environmentally friendly labels resist fading and have an easy-squeeze feature built into the ink process.
The result is an easy-to-grip, high-visibility label that is mindful of the bottle shape and green packaging initiatives, and that also gives the Australian Gold lotions stopping power in the store aisle.