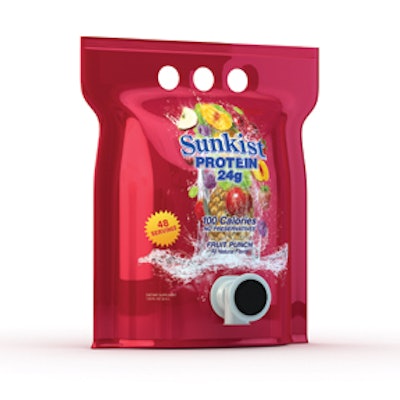 When a startup virtual manufacturer called BioBev LLC asked contract packager Protica to hot fill a 2.5-oz energy drink under the well-known Sunkist brand, it triggered a chain reaction that resulted in the simultaneous launch of the following:
• Sunkist Energy, an energy drink hot-filled in a 2.5-oz heat-set PET bottle
• Sunkist Protein 24, a protein drink with 24 g of protein; they're packaged in the same heat-set PET as Sunkist Energy
• Sunkist Protein 25 or Sunkist Protein 42, protein drinks with 25 or 42 g of protein; they're packaged in a 3.2-oz hot-fill "tube" that's injection molded of polypropylene,
• Sunkist Protein 24 in a multi-serve 1-gal standup pouch featuring The Answer, a patented dispensing technology from International Dispensing Corporation.
The standup pouch is especially intriguing. It holds 48 servings of Sunkist's highly concentrated protein drink. The pouch's innovative dispensing technology—combined with hot-filling at 185 deg F and a pouch material structure that includes foil for gas barrier purposes—gives the package a two-year shelf life with no need for refrigeration.
Supplying the pre-made pouches to Protica is Fres-co System USA, which has some past experience working with IDC's unique dispensing system but never before in a standup pouch application. The pouch structure is an adhesive lamination of polyster/foil/nylon/PE heat seal. The outer layer of polyester is reverse printed gravure in eight colors.
Part of the pouch-making process includes the application of an injection-molded PP fitment. But Fres-co chooses not to describe how the fitment is applied nor will it identify the supplier of the pouch-making equipment it uses. It is through the fitment that Protica fills the pouch. After filling, the dispenser component of the IDC dispensing closure system is snapped onto the fitment.
The construction of IDC's dispenser component includes a silicon valve, so once it's snapped onto the fitment of the pouch, a hermetic seal is in effect. Consumers push the black button on the dispenser component to open the silicone valve and release product. When the consumer lets up on the black button, the silicone valve snaps back and hermeticity is restored.
At the end of the day, The Answer is a method of dispensing shelf-stable liquids—which can be aseptically filled or, as in this case, hot-filled—without exposing the remaining contents to bacteria and without recourse to refrigeration or preservatives. It essentially takes the Tetra Pak or Combibloc concept to the next level, because as good as those aseptic packages are, once their hermetic seals are broken and product is dispensed, hermeticity can't be restored and the remaining shelf life is limited.
Rigorous testing
"We liked this dispensing technology and this pouch approach as soon as we saw it," says Jim Duffy, Protica president. "It brings consumers tremendous value because they pay less for this product when multiple servings are in a single package. And in-depth life-cycle analysis indicates that bulk packaging like this dramatically reduces the amount of energy, greenhouse gas emissions, and landfill waste compared to a single-serve package. But before we jumped into this, we tested it rigorously.
Only after it passed our in-house microbiological testing did we sign an agreement with IDC. We now have the exclusive right to use it for packaging either protein drinks or energy drinks as long as certain volume requirements are met. This Sunkist pouch is our first commercial introduction of the concept.
"We relied on IDC for sourcing pouches," continues Duffy. "At first it looked like we were going to have to get them from offshore. But when we realized that the offshore vendor wasn't going to be able to meet our timeline, we were happy to work with Fres-co. They have a lot of experience making pouches."
As for BioBev LLC, the startup sales and marketing company that first came to Protica with its idea for a Sunkist-branded energy drink, Duffy now owns a significant portion of it. Also, BioBev has moved from Dublin, OH, and now occupies a part of Protica's 250,000 sq ft headquarters facility in Whitehall, PA.
Boxed pouches
The pre-made pouches arrive at Protica in boxes. They're fed into a 12-head filling machine built by Protica. Two filler operators attach 12 pouches on a pre-feed station. When a button is pressed, a mechanical jig picks all twelve pouches and positions them each beneath a filling valve. The 12 filling valves dive down and latch onto the plastic fitment on each pouch. As soon as volumetric filling is complete, the fill heads come up and a second mechanism comes down to press on 12 dispensing components.
"Designing equipment capable of applying the dispensing components was a big challenge," says Duffy. "A lot of force is required to get the dispensing component onto the pouch fitment. So the structure underneath all this looks like an anvil. That's the only way we can apply enough force. We do about 40 pouches/min."
The 1-gal standup pouches were scheduled to go into distribution to food, drug, and mass merchandisers in December of 2010. The consumer pays about $90 for the 1-gal pouch, or about $1.80 for each of the 48 servings the pouch contains.
Dave Bolton, director of Global Licensing at Sunkist, views the product and the pouch as perfect examples of what the Sunkist brand represents. "It's a 'good-for-you' product and it's packaged in an innovatively convenient format," says Bolton. "We're always on the lookout for innovation."
For those who travel frequently, look for the colorful standup pouch of Sunkist Protein drink on the cover of the in-flight SkyMall magazine beginning this month.
Three more launches
The other three launches mentioned at the top of this story were also scheduled for December. What's interesting is that the standup pouch idea was nonexistent when BioBev first approached Protica. "They came to us with the idea for the energy drink under the Sunkist name and quickly realized how many other capabilities we have here," says Duffy. "So they decided to brand protein products under the Sunkist label, too, and Sunkist agreed."
Both Sunkist Energy and Sunkist Protein 24 are hot filled at about 200/min on equipment built in-house by the Protica engineering staff. The heat-set PET containers—identical for both products—are supplied by Amcor. Full-body shrink sleeve labels from Litho-Pak are applied by equipment from PDC International. Closures are injection molded of PP and come from Silgan White Cap. They're applied by a Kapsall Packaging Systems capper.
"The bottle represents a breakthrough because bottles so small are usually not compatible with hot-filling," says Duffy. "Amcor had to design the bottom with a geometry that would permit the bottle to resist deformation when internal vacuum pressure is created during cooling of the hot-filled product."
Protica worked closely with Amcor in the final stages of the bottle's development. Confidentiality agreements prevent Protica from discussing other customers who have used Amcor's breakthrough bottle. But all indications—including news plucked from the Web—would suggest that Newtown, PA-based The Healthy Beverage Co. was the first to commercialize the Amcor bottle when it launched its 2.5-oz Steaz energy drink in the Spring of 2009. It would also appear that Hormel Health Labs, a division of Hormel Foods Corp., followed a short while later with Healthyshots, a high-protein healthcare beverage. Presumably, Protica is the contract manufacturer and packager for both.
Like the 1-gal stand-up pouch, these single-serve bottled products under the Sunkist brand are sold through food, drug, and mass merchandisers. They cost the consumer about $2.39 each. The Sunkist Energy bottles come as singles, in twin packs, or in 12-packs. The 12-pack is a hand-filled folding carton that opens into a display unit. The twin-pack is also a folding carton, but Protica bought a cartoner from Econocorp to put the two bottles into the cartons. Shelf life on Sunkist Energy is 18 months and on Sunkist Protein 24 it's two years.
Proprietary tube
That brings us to the Sunkist Protein 25 and Sunkist Protein 42, both of which are filled into an unusual tube-like PP container holding 3.2 oz. Protica owns the custom molds for this container and has been filling it for a variety of customers since 2005. It's injection molded for Protica by The Rodon Group.
"At 35 grams, it's pretty heavy," says Duffy. "That's what permits it to withstand hot filling without deformation. We also custom built the machine that fills it. When we first wanted to go to market with it, we couldn't find a contract packager willing to go near a container that wouldn't stand upright. So our engineering department pretty much had to build a custom machine."
As with the heat-set PET bottles, decoration on the proprietary tube is a Litho-Pak shrink label applied by a PDC machine. Once the label is on, tubes are placed into an unscrambler from Omega Design. "All of our unscramblers are from Omega," notes Duffy. "This particular one had to be modified somewhat so that the tubes would be unscrambled into the pucks needed to take them through the filling system."
Capping of the tube is done by a machine from Kapsall Packaging Systems, and the 38-mm injection-molded PP cap comes from Silgan. Protica runs the tubes at about 300/min.
"The very first shipment of these Sunkist brand tubes went out mid December through Europa Sports, the largest distributor of sports drink and nutrition products in the U.S.," says Duffy. "The channel for this package is gyms, the armed services, and health food or nutrition stores like GNC. The suggested retail is $2.99. We multipack them in cartons of 12, so retailers can have customers buy single tubes or a carton of 12."
For a firm that only started manufacturing its own product in 2005, Protica has come a long way.
"We went from renting 1,000 square feet to moving into a former dairy on 13 acres where we have 250,000 square feet," says Duffy. "The reason for our growth is that we take on lots of projects. We don't take on more than we can handle, but we take on a lot. Customers want to get their product to market ASAP, and we manage to do that.
With the exception of the standup pouch, what BioBev wanted we were uniquely suited to do. We'd already been doing all those containers. The pouch, on the other hand, was new territory.
Fres-co was a big help in getting that to market. So was our engineering department, which had to come up with a custom-built filling system. I can't say enough about their contribution."
Companies in this article