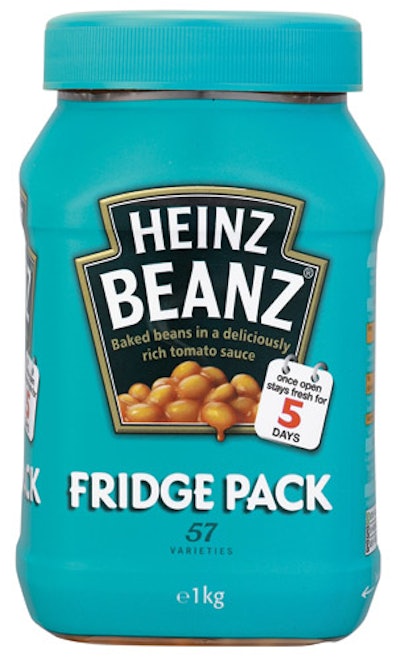 That's the word chosen by RPC Containers, the maker of the 1-kg (2.20-lb) reclosable plastic Fridge Pack recently introduced in the U.K. The six-layer, PP/EVOH/PP container weighs 50 g, takes an 80-mm closure, and withstands retorting that delivers a 15-month shelf life.

Heinz isn't the only brand owner introducing a Fridge Pack concept. On this side of the pond, Sargento Foods is introducing its own Fridge Pack—a windowed paperboard carton of 18 individually wrapped cheese snacks.

Among the things I find remarkable about these two clever packages is that the press kits announcing them are dated September 29 (Sargento) and October 1 (Heinz). How fascinating that two brand owners an ocean apart were thinking along such similar lines—even to the point of using the same Fridge Pack nomenclature—and launched their brainchildren at virtually the same time.

But there's more here than mere chronological serendipity. These two packages—one plastic, one paper—are a vivid reminder that brand managers and package designers should always keep their field of vision wide open when it comes to packaging materials. Don't get so locked into paper, or plastic, or glass, or metal, or flexible film that you barricade yourself from a potential solution simply because you are closed-minded about materials options.

Also worth pointing out is the extent to which these packaging innovations help drive sales of well-known brands by providing a point of differentiation compared to private-label brands. Consider, for example, the Heinz container. It lets bean lovers enjoy beans in whatever portion they like and then return the package to the fridge until the next usage occasion. It's a way for Heinz to extend its brand by offering consumers different package formats to suit emerging lifestyle requirements. Heinz calls it "the ideal complement to the Heinz Beanz brand." Adds Heinz marketing manager John Alderman, "We are sure that the Fridge Pack will become a popular purchase with consumers."

Equally consumer-focused is Sargento's take on the Fridge Pack. This Plymouth, WI, firm commissioned a Healthy Snack Survey that interviewed nationally representative samples of adults age 18 and over. A key finding was that Americans want healthful snacks that are easy to find. So Sargento designed a package accordingly. "With Sargento Fridge Packs, we are helping consumers choose a wholesome and flavorful snack that they can easily see, grab, and go," says senior marketing manager Erin Price.

These two packaging innovations remind me of a piece of advice from Pat Conroy, a consumer products practice leader at Deloitte. He believes that if national brands are to win sales from private-label competitors, they must shed homogeneity, be irreplaceable, and be a brand that the retailer cannot be. These two Fridge Packs succeed on all three counts.
Companies in this article