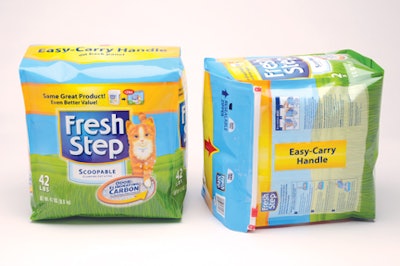 Package innovation appears to be heading down a different path. The results of a new survey by Shelf Impact! and global brand and design consultancy
Dragon Rouge
reveal an emerging trend: While branding teams continue to communicate innovation primarily through robust structural package design, material choices and production processes increasingly are driving the innovation equation. Recent package innovations that performed the best in the survey, conducted each quarter, are those that married a sustainable benefit with a cost reduction. Is this a sign of the times or a practical consideration? Whether it comes about because of greater awareness and sensitivity to the new "green order" or it results from changing mind-sets in the wake of the Great Recession, two of the best-rated packaging innovations in the online survey feature considerable production and materials enhancements.
A sample of 15 new package innovations was presented to SI readers during June and July. Shelf Impact! selected the packages from across product categories, and they were compared and contrasted by about 250 survey respondents. Those who participated included brand and marketing managers, designers, and materials suppliers.
The four leaders
The respondents selected the following four packages as rising up the innovation ladder a little more than the rest of the group:
• Clorox achieved a whopping 80% reduction in packaging material weight by replacing polypropylene pails with flexible-film-bag packaging for its Fresh Step Cat Litter. The use of flexible film decreases costs across the supply chain and in material usage, warehouse storage space requirements, and shipping weights.
• A new technology called Coil-to-Can, marketed by Exal Corp. and Alcoa Rigid Packaging, might be the key to driving the future aluminum beverage-bottle market. This multifaceted technology allows for the manufacture of eye-catching, resalable, shaped aluminum bottles at substantially higher line speeds, and with 30% to 40% less weight than previously possible. These benefits make the bottles a viable option for higher-volume beverage applications while also offering marketing and production benefits.
• In the same vein, Thorntons Melts resorted to a cellulose-based, biodegradable film to protect the savory flavor and texture of its melty pralines using eco-friendly package material. Manufactured from renewable wood pulp, metalized in-house, and suitable for home composting, the film offers a tight twist-wrap for the melts with an attractive metallic finish containing such a low metal level that it only slows the film's degradation by a few days.
• The fourth package is an innovation that owes its success to some of the more traditional benefits alluded to during previous quarterly surveys: an innovative product concept served by a well-thought-out structure. The result is the marriage of clear functional benefits with brand building. Indeed, The Nest Collective's Revolution Foods Mashups, a line of organic fruit purees for infants, comes in a stand-up pouch pack format that allows for modular food dispensing. Tots can squeeze product directly into their mouths. For babies, parents can either squeeze the product onto a spoon or attach a dispensing spoon for a one-piece squeeze-and-feed approach.
To review an image and brief description of each package reviewed in this quarter's survey, go to www.shelfimpact.com/go/7.
Graphics can't always hide chemicals
If environmentally friendly and cost-conscious manufacturing processes are primary supporters of these four packages, the other packages in the survey suffer from opposite circumstances. Interestingly, many of the other packages actually rate very well on graphic innovation, but they fall back in relation to the highest-rated packages when it comes to materials and production.
For example, Superdrug's handy wipes, marketed in the UK, admirably address an emotional benefit in the highly commoditized hand-wipes segment. Here is a product that manages to break away from very serious and functionally driven category cues that boast about killing 99.9% of germs. Package graphics resort, instead, to a tongue-in-cheek language, featuring the root cause of a problem (in this case showcasing a melting popsicle as the source of an upcoming mess). The brand attempts to de-dramatize the usage occasion. However, this brilliant graphic innovation does not seem to be enough, in the minds of survey respondents, to counteract the negative perceptions associated with the choice of plastics and production processes.
Crown Custom Blends experiences a similar problem. In a category loaded with standard oval trigger-sprayer packages, Crown's namesake brand selected a contour-shape bottle that could be readily labeled with a vibrantly colored set of shrink sleeves and labels, as well as accommodate a variety of products by using multiple closures: dispensing, spray, and child-resistant. But even with the multipurpose bottle shape, survey respondents seemed to believe that the odd shape does not make the job of developing shrink sleeves simple or effective.
Key takeaways
The results of this survey point to four conclusions about sustainability and cost savings.
1. Making it pretty doesn't necessarily make it good.
2. Meaningful sustainability comes with cost savings.
3. Attentive selection of materials has become an essential step in support of a brand strategy. If you want your brand to be perceived as careful and natural, avoid using materials perceived to be bad for the environment.
4. As consumers are looking for smart ways to sustain the economic recovery, they are increasingly turning to simple cues that help them save money.

In essence, this quarter's survey results offer a strong suggestion: Don't try to outsmart your consumers with bells and whistles. They know what will cost them money and what will be costly for the environment. However, if you pass production savings down to them, they may love you for it.
About the author: Eric Zeitoun is president of Dragon Rouge USA. Contact him at eric@dragonrouge-usa.com or 212/367-8800.
Companies in this article