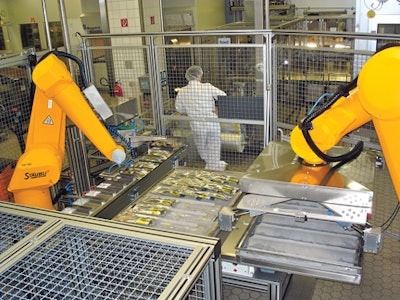 Based in Leverkusen, Germany, the company produces parenteralia under stringent hygienic requirements. These drugs are not for oral intake, but are introduced into the human body by injection, infusion, or implantation. At the Leverkusen facility, the liquid drugs are filled in primary packages that include bags, flasks, and plastic containers.
Since August 2009, a new automatic drug packaging line developed by Klaus Radke Industrietechnik has been used to fill and pack flexible pouches of drugs at high speeds. After bags are filled, they are loaded onto metal trays that are then placed in a trolley that undergoes sterilization. To accommodate Bayer's flexibility, speed, and hygienic requirements for the line, the integrator chose two six-axis robots from Stäubli —the RX160 and the TX200—for filled bag handling and filled and empty tray handling, respectively. According to Bayer, the robots work reliably hand-in-hand without any disruption to production.
During the tray-packing process, empty trays are handled by the TX200 industrial robot, which transfers them onto a turntable within the working area of the smaller-payload robot, the RX160. The RX160 then places up to 48 filled bags onto each tray. After a tray is completed, the turntable rotates 180 deg, and the TX 200 moves the tray onto a trolley. Each trolley holds 14 trays.
The IP65 TX200, with a nominal payload of 100 kg, is especially suited for use in the bag packaging line. The trays to be transported have a capacity of 48 bags and are enclosed by a massive steel frame, resulting in a weight of 38.5 lb.
In order to avoid any production downtime when trays are replaced and to allow the RX160 to deposit new bags, Stäubli's CS8C HP robot controller manages the complete production process beginning with the buffering of the bag feeding up to the synchronization of all handling operations. This process control allows for the continuous change of the trays without unavoidable breaks, allowing the product to constantly be treated.
The Stäubli robots, operating at 45 bags/min, have proven to be an ideal solution for use in the packaging cell. Because of their fully enclosed structures, they are easy to clean and work well in cleanroom environments. Their rigid structure also allows for high dynamic performance, notes Manfred Broustin, leader of automatic control engineering of the parenteralia production plant in Leverkusen. "Stäubli products offer an outstanding fit for use in a cleanroom environment. We feel that due to their arm compactness as well as their fully enclosed surface structure, Stäubli robots are unrivalled in the market regarding cleaning capability," he says. "We are fully satisfied with Stäubli robots. Our requirements could not have been better fulfilled than by Stäubli."
Companies in this article