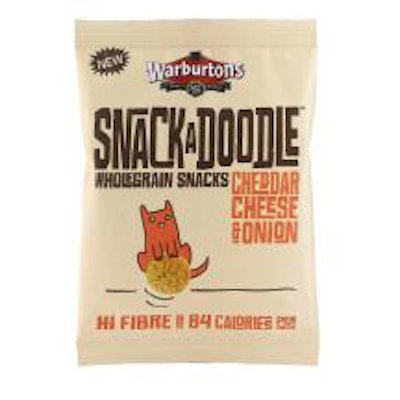 Recognizing that requirement, Warburtons, a leading U.K. baking company, opted for design originality and quirkiness when introducing its ChippidyDooDaa Pitta Chips and SnackaDoodle Wholegrain Snacks.
The company, working with design agency Anthem Worldwide, has introduced both brands in flexible bags with distinctive messaging and an engaging "personality." The design combines typography, which is inspired by the iconic Saul Bass film posters of the 1960s, with flat blocks of color. The combination creates a chatty and down-to-earth visual tone on the packages. The brands' "voice," says Jason Uttley, Warburtons New Business Director, begins with the animated characters and product names on the front panel and continues on the back panels.
Warburtons extends the visual brand messaging to online media, point-of-purchase displays, and collateral materials.
"The design of ChippidyDooDaa and SnackaDoodle really delivered on the brief—memorable, challenging, and confident—in a warm, friendly, and fun manner," Uttley says. "It picks up category cues but feels a little different in a positive way, and its simplicity makes it easy to translate into other media. Most important, it makes people smile when they see the packs."
Companies in this article