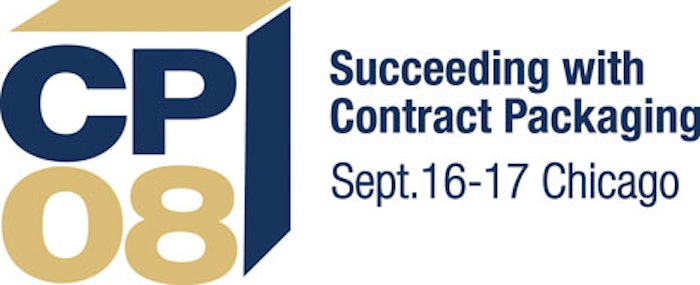 Product manufacturers often fail in their effort to bring truly new concepts to store shelves—and to optimize their use of contract packagers in getting those products into the marketplace—because of poor planning that sidesteps cross-functional input from each relevant stakeholder. The results are wasted time and money on packaged goods that don't meet initial business objectives.
Those observations served as a base line for generating discussions on remedies at the CP 08: Succeeding with Contract Packaging Conference Sept. 16-17 near Chicago, IL. The second-annual education and networking forum, presented by Contract Packaging and Packaging World magazines, drew decision-makers from product manufacturers such as the Wm. Wrigley Jr. Co., Kellogg Co., Land O' Lakes, and a host of contract packagers and companies that sell into the co-packing industry. CP 08 was supported by the Contract Packaging Association (www.contractpackaging.org).
Keynote speaker Jeff George, vice president of research and development for Quaker Foods and Snacks, part of PepsiCo Inc., opened the conference by declaring that a major barrier to innovation is that most product manufacturers don't think about it enough. Though they're engaging the services of contract packagers more than ever, they often fail to welcome their external packers into the early stages of package development, where innovation can take root.
"Most companies lack a strategy for packaging innovation," George said.
Start at the end
He recommended that product manufacturers turn the creative process on its ear by first creating a distinctive package and then leveraging it to drive product innovation. That begins to drive holistic thinking, George noted, because the package is the product. George said the nation's leading product manufacturers are beginning to adopt this inverted way of thinking rather than use the traditional linear approach, in which the product is created first and then packaging concepts are considered—often in the realm of an add-on.
Contract packaging plays a major role in this new way of thinking in a number of ways, he said. This approach:
• Forces meaningful input from external partners earlier in product and package development.
• Strengthens relationships between packers and their customers.
• Fosters a team-based understanding of the product manufacturer's objectives.
• Keeps both internal and external team members abreast of new technologies.
• Creates capability that can address unmet needs in advance.
• Focuses team members on finding solutions and asking the right questions.
Fundamental to achieving success with innovation efforts is the need to create the right team to assess and manage innovative concepts, said Kevin Leibel, president of Innovation Management Inc. Leibel, who opened day two of the conference, outlined seven characteristics of an innovative culture inside any product manufacturer or contract-packaging company. Innovative teams exude innovative ambition and commitment from senior management, the innovation process is simple and easily understood, the process allows for capability development, the effort has support mechanisms, the team feels motivated and empowered, the team is encouraged to experiment and take risks, and the team bases its work on customer insights.
Facing the challenges
However, Leibel added, a host of challenges can thwart an innovation culture. Key roadblocks are: a bureaucratic approach to the work, lengthy decision cycles, conflict rather than healthy competition between teams, and too much influence from the engineering department, which on one hand is responsible for some successes but on the other hand can lose touch with both the market and the customer.
There is a lot of opportunity to improve the product-package relationship through contract packagers, Leibel added. Success first requires building an organizational structure that enables each key stakeholder to have a voice in decision-making and that rewards both successes and failures.
"Look at shifting from a framework that's focused on the package—functional characteristics and advantages, cost advantages, serving size, and channel-specific issues—to one that's more about the customer," Leibel said. "Influence consumer purchase and consumption behavior through the package."
That in itself often poses challenges, because too many product manufacturers don't really know what they want, said John Helferich, who made a return appearance to the conference to offer more ideas about mass customization, a key capability for contract packagers. Helferich, a former vice president at Masterfoods USA, is now a Batten Fellow the University of Virginia's Darden School of Business.
"Some retailers and consumer product companies get the strategy of customization," Helferich said. "The rest don't have a clue—they're the me-too's. But they don't really understand or know what they're chasing. They just react.
"So the problem is, how does (a contract packager) deal with a customer who doesn't know what they want? The answer is to figure out how to present your offerings to the buyer in such a way that you can determine whether they know what they're doing, or they're fuzzy on what they want. And you need to go to them much earlier than the design process."
Douglas Miller sounded the same theme, using his presentation to discuss how contract packaging saves time and money in producing gift sets for specialty retailer Limited Brands, which are then sold through its Bath & Body Works stores. Limited Brands develops, designs, and markets the gift sets, but contract packagers make them.
"Open and honest communication is really a challenge in many environments," said Miller, production and operations manager at Limited Brands. "I just have to tell you that when you can achieve it, it works, and it saves you a lot more money than, say, going out with a blind bid and developing your designs ahead of time and then forcing a bill."
For Limited Brands, it's a continual learning process after various gift sets have gone through their seasonal selling cycles.
"We actually have a set of films that we print out, following up on our contract packagers and our learnings," Miller said. "We do that after every season. So we are doing this four to six times a year.
"We have a post-season meeting where the design group gets to sit in on it, a contract packager gets to sit in on it, because we have two contract packagers, and they both hear the mistakes that the other guy makes. So it's a little bit embarrassing sometimes, but it's also a broader and a better learning technique, when you get to learn from somebody else's mistakes as well as your own. They do the cross audits and everybody fills out a part of the forms for each basic gift set, so that we get to review questions like, Where did we plan to come in? Did we come in on cost? What were the issues? What were the problems?"
Companies in this article