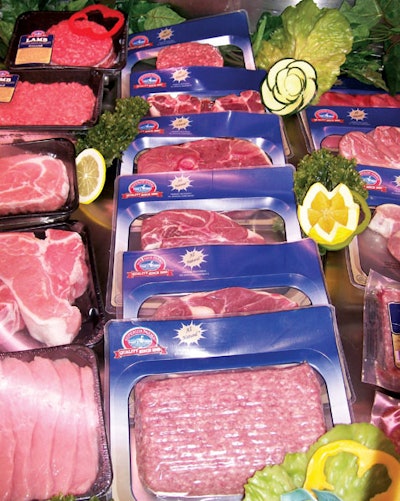 In January, PW reported that the processor had begun testing the use of freshness indicator labels on its lamb products in overwrap trays (see
packworld.com/view-24211
). That project is still being finalized, Superior executive vice president of sales and marketing Gary Pfeiffer tells PW. Its latest development—a new, vacuum-based package using technology Superior observed in Europe—was launched in mid-May.
"We have always prided ourselves on really offering the best and the latest packaging options," explains Pfeiffer, "and this is another option to satisfy consumer demand."
The new case-ready package, being used for smaller cuts of lamb, such as loin chops, shoulder chops, ground lamb, and lamb patties, among others, consists of two pieces of film, with the product vacuum-sealed in-between. The bottom web of film is a 250-micron, four-layer lay-flat film, manufactured by
Packall Packaging
(
www.packall.com
) and shaped to form a sort of cavity in which the lamb product is placed. The film is constructed of PVC/adhesive tie layer/coex ethyl vinyl alcohol & linear low-density PE/adhesive tie layer. The top-forming, 150-micron vacuum skin film is from
Curwood
(
www.curwood.com
). It includes EVOH for gas barrier properties, as well as an LDPE sealant layer.
The meat is packaged at Superior's Denver facility on an Optima TF (top-forming) machine from
Ulma Packaging
(
www.ulmapackaging.com
) that Pfeiffer says was custom-designed and built for Superior's requirements. Ulma Group is headquartered in Spain, which is where the package format originated.
The vacuum pack, Pfeiffer says, is ideal for lamb, which is one of the slower-moving items in the fresh meat case. The combination of vacuum seal and nonbreathable films enables a shelf life that can range from 14 to 28 days, he says. "It's very retail-friendly, in that it should reduce shrink considerably by providing an extended shelf life at the meat counter."
Another advantage is that the film webs can be preprinted to include recipes and cooking instructions—things that Pfeiffer says consumers are look for when buying lamb. In terms of its green features, the package is said to use less material than other case-ready formats, is more efficient to transport, and eliminates the need for a master bag as used in an overwrap-tray format, as well as the headspace required in a MAP package.
Companies in this article