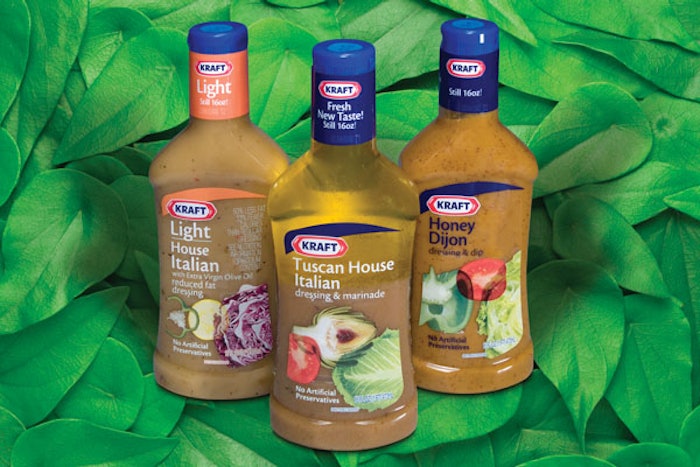 A streamlined PET bottle from Kraft Foods, Northfield, IL, designed for its line of 50-plus salad dressing varieties has earned a DuPont award after achieving a 19% reduction in weight over the previous packaging and providing multiple consumer conveniences. The redesign, begun in 2005, was originally undertaken only to contemporize the bottle in an effort to boost sagging sales and rejuvenate the brand's on-shelf appearance, according to Kraft Salad Dressings senior brand manager David Ervin. But the project "quickly transformed into a multifaceted reinvention of an entire product line," he explains.
In the salad dressing category, Kraft Foods is the nation's leading brand. But resting on its laurels had cost the company market share in recent years­—it dropped from a 32.5% share in 2002 to a 27.8% share in 2007, according to Information Resources, Inc. (www.infores.com), as reported by the Chicago Tribune. In early 2007, Kraft chairman and CEO Irene Rosenfeld announced a company-wide initiative to "reframe" many of Kraft's iconic, yet stagnant, brands by investing in quality, innovation, and marketing.
One beneficiary of Rosenfeld's plan is Kraft's salad dressing line. In March, the company unveiled to retailers a reformulated and repackaged product, marketed under the theme "Pure Kraft." The line of 50-plus varieties of Kraft Regular and Light salad dressings now are free of artificial preservatives and include two new flavors. New packaging, described by consumers as "sleek and innovative," according to Ervin, consists of a trimmer bottle from Plastipak Packaging, Inc. (www.plastipak.com) that offers several new convenience benefits.
Explains Kraft Foods senior group leader for grocery packaging Lael Hamilton, "As part of our efforts to reinvent our Kraft salad dressing portfolio, we looked at what we could do better with the packaging to appeal to the consumer and improve usage." Elements include a contoured body shape that fits more comfortably in the consumer's hand, making it easier to handle, Hamilton notes, as well as a new easy-open, one-piece, flip-top cap from Seaquist Closures (www.seaquistclosures.com) that helps regulate pouring without spilling. A lift-and-peel induction seal under the cap ensures tamper-resistance.
To reinforce the "pure" message, Kraft selected clear, pressure-sensitive labels with simple graphics to decorate the bottles, allowing consumers to view "more of the quality ingredients inside," says Hamilton. The labels, from a proprietary supplier, are made from clear biaxially oriented polypropylene on the front, a machine-direction-oriented PP on the neck, and a paper label with a clear BOPP film for the back panel.
An added benefit to the bottle redesign, for which it earned DuPont's attention, is a notable sustainability advantage. "We were able to use 19-percent less plastic per bottle, which results in a larger-scale savings of 3.4 million pounds of PET annually"—or the equivalent of approximately 70 million plastic water bottles—notes Hamilton. "Our optimized bottle design has also improved inbound transportation efficiency by 18 percent by allowing a greater number of bottles per truckload." Furthermore, the implementation of reusable totes for inbound closures has eliminated the need for nearly 4,000 corrugated totes annually.
According to the Chicago Tribune article, the change to the new bottle required Kraft to significantly rework manufacturing lines at its salad dressing plants in Champaign, IL, and Garland, TX. Kraft declined to provide further information on this aspect of the project.
Most flavors of the reformulated salad dressing are available only in a 16-oz bottle size, for $2.99; however, some varieties will also be offered in an 8-oz size for $1.69 and in a 24-oz bottle for $3.99.
Companies in this article