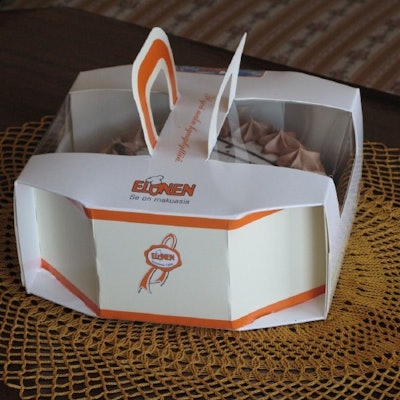 When bread and bakery products manufacturer Elonen of Jämsä, Finland, developed a custom carton design for its range of 20 dessert cakes, the company required a cartoning machine that could efficiently accommodate the package's unique features. According to Raimo Virolaine, Elonen's logistics manager, the company selected the Spartan cartoner from Econocorp, Inc. due to the equipment's ease of use and its suitability for the bakery operation and for the market, he says.

Elonen's cake cartons were designed by Tako Carton Plant, a division of Pyroll, with the bakery's input to provide protection for the delicate, delectable cakes and to offer customers an attractive, easy-to-handle package. Comprising what looks like an eight-sided carton overwrapped with a straight-edged sleeve, the carton has film windows on the top and sides to provide consumers a view of colorfully decorated cakes. Two carry handles on the top of the carton make it easy to transport, while a perforated double line on the carton end flap facilitates carton opening.

Protection for the cakes, which typically serve 10 and weigh 750 or 800 g each, is provided by Nova X coated, bleached paperboard from M-Real.
Complex carton requires cartoner adjustment

To create the carton's custom corners, the Spartan was adjusted from the standard model to include pneumatic devices that fold the special corners. "With the help of Pyroll's mechanical packaging manager, Jorma Jokinen, and Pyroll area sales manager Rami Haapanen, we designed the new cake-cartoning line," explains Virolaine.

During operation, the Spartan opens the flat carton blank and forms the special corners of the carton. The delicate cakes are then fed manually into the cartons, after which the flaps are sealed with glue, and the cartons are labeled and packed in corrugated sleeves.

"We will increase the amount of the cakes packed like this in the future," notes Elonen production manager Kai Renlund.
–Anne Marie Mohan



Companies in this article