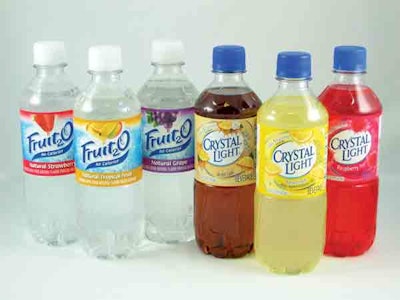 In Europe, Kraft changed the packaging of its Milka 300 g milk-chocolate tablet from a foil wrap in a cardboard sleeve to a flexible film flow pack. The redesign reduced the use of packaging materials by more than 50 percent.These new packages are the latest is a series of outcomes from Kraft's long-term sustainable-packaging program.
The Eco-Toolbox
To help package designers make informed decisions, Kraft developed an Eco-Toolbox. The toolbox and emphasis on sustainable packaging has helped Kraft to find optimum design scenarios, allowing for combinations of reducing the amount of material used, increasing recycled content, and/or minimizing environmental impact upon disposal.
The Eco-Toolbox compares material type, material weight, recycle content, recyclable materials, and other key considerations for increasing the sustainability of a package. "The toolbox is used in the package development process to help our packaging developers consider a range of parameters and understand the environmental impact across many different options," says Roger Zellner, director-Sustainability Global Technology & Quality, Kraft Foods. The Eco Toolbox originated at Kraft's European packaging center and was subsequently adopted as a packaging-function best practice across the organization.
Creating an internal environment for sustainability
Beginning the journey to sustainable packaging requires more than changing the weight of a package or increasing recycled content. It starts at the top of the organization with a commitment for long-term change. "Internal culture change is critically important," Zellner observed. "Organizations can only achieve sustainable practices when economic, social, and environmental considerations are fully understood, balanced, and backed by corporate leadership."
Even with a mandate at the top, making frontline sustainability-based decisions can be challenging, when various departments are involved, each of which comes to a negotiation with its own perspectives, needs, and goals. To help overcome silo-based viewpoints, Zellner said that Kraft formed cross-functional sustainability teams. He said it is a successful strategy for balancing competing needs and generating consensus.
No one company can do it all
"Supply chain partners have been critically important contributors to successful implementations," Zellner said. "We rely on our supply partners' expertise in researching and developing new solutions and for advancing the performance characteristics of established ones."
Kraft also emphasizes that the public's knowledge, acceptance, and participation is vital to the success of sustainable programs. "Consumers want to be environmentally conscious but may not be aware or fully understand latest developments and trends," said Zellner said. "Committed consumer packaged goods companies can help bridge the knowledge gap."
Zellner believes that the supply chain, packaged goods companies, and consumers must all be involved in order to successfully balance the environmental, social, and economic impacts of packaging.