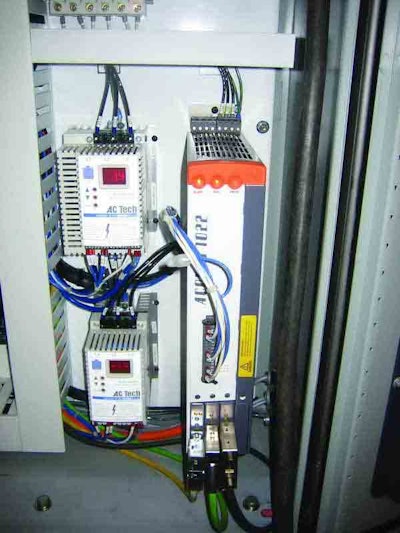 The introduction of a Power Panel PP220 controller from B&R (www.br-automation) has enabled Talon Manufacturing
(www.talonmfg.com) to build a horizontal form/fill/seal pouch-packaging machine with fewer components than were used in the past. Why? Because the controller combines motion control, machine logic, and HMI functionality in a single integrated unit. This not only lets Talon keep costs down but also yields additional cost savings throughout the machine's useful life, because a simpler machine is easier and less costly to maintain.
The Talon pouching machine is used primarily by manufacturers of microwavable popcorn. It feeds flexible film through a series of folding devices and eight seal bars that make the seals that form the bags. Rated speed is about 100 bags/min.
Since the flexible packaging material is often decorated, keeping the film in register is essential. This requires tremendous accuracy in film movement, accuracy that is provided by a B&R Acopos servo drive.
A traditional mechanical cam shaft runs the length of the entire machine. An encoder records the position of the cam shaft and communicates it to the PP220 controller. This controller tells the Acopos servo drive how to accurately time the infeed of the incoming film. It also sends signals to a series of inverters from Lenze AC Tech (www.actechdrives.com) so that these inverters can drive the machine's various induction motors in synchronization with everything else that is controlled by the Power Panel PP220.
Another key benefit of the new control solution is the elimination of the internal PID controller formerly required for temperature regulation in the eight PID zones of the sealing system. Temperature control is now governed directly by the PP220, which has proven more accurate than the separate PID controllers that were required in the former controls package.
Talon was drawn to the B&R controls solution from a software programming perspective, too. They wanted to re-use code they already had for portions of the machine's operation, such as the seal-bar temperature control, for example. B&R's programming tool, Automation Studio, makes it possible for code to be simply imported. Moreover, Automation Studio requires Talon's engineers to familiarize themselves with only one programming tool for the HMI, motion control, and control logic of the machine. An added convenience is that the entire program is stored on a single compact flash in the controller.
According to George Kecskemeti, an engineer at Elec-Trol, the B&R distribution partner that helped develop the new controls solution, the first Talon machine equipped with the new controls package is installed in India. "To get an application update to that customer," says Kecskemeti, "all we'd have to do is send them a single compact flash card that they'd swap out in the controller. That flash card contains the entire application program for the machine. Similarly, they can replace inverters or the servo drive, should they be damaged, for instance, without having to worry about going to each one and separately programming it."
Companies in this article