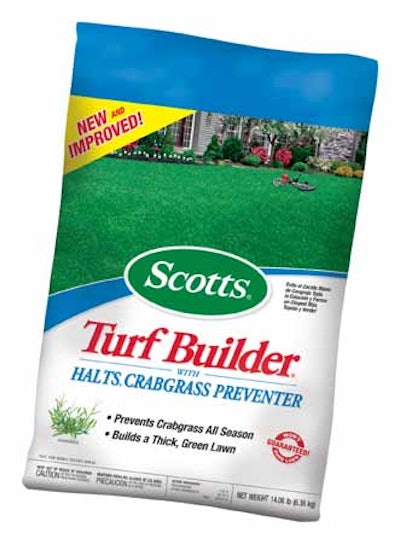 Scotts Miracle-Gro Co. has found an innovative way to help consumers protect the environment through its packaging. Flexible film bags of Scotts' lawn fertilizer educate consumers on how to properly apply the product during lawn-maintenance activities by following the label directions.
Based on input from environmental groups and the company's own consumer research, Scotts Miracle-Gro, Marysville, OH, has added best-practice application instructions on more than 35 million bags of its Turf Builder brand of fertilizer products. The company, which sells $2 billion of lawn and garden products each year, features the messages on the top of the back panel on its fertilizer bags.
The message "Scotts & Your Environment" appears in green letters to the left of a tree in full bloom, against a sky-blue background. Additional text says, "We care," along with the company's commitment to a healthy environment, and "You can make a difference," with instructions on how to apply the fertilizer in an environmentally healthy way. The messages and instructions appear in both English and Spanish.
These changes highlight a range of refreshed graphics on the low-density polyethylene (LDPE) bags that support the company's healthy environment message. Scotts Miracle-Gro didn't disclose suppliers that worked on the packaging, but said the bags are printed using flexographic, rotogravure, screen, lithographic, and digital printing processes in two to 10 colors.
"Enjoying the benefits of a healthy lawn and protecting the environment go hand-in-hand," says Rich Martinez, Scotts Miracle-Gro chief environmental officer. "It is our responsibility as the largest provider of consumer lawn and garden products to help educate consumers on stewardship issues."
A major impetus for the new packaging was company research indicating that 73% of homeowners surveyed agreed their behavior could make a difference in maintaining a healthy environment. But only 25% of respondents said they take action to assure a safer environment when using lawn products.
A telling statistic for marketers at Scotts Miracle-Gro was that 93% of consumers said they were willing to change their lawn and garden activities to make a difference in the environment.
"If we can broaden our outreach to both our consumers and the public at large, then our data suggests they will take some simple steps to have a significant impact on the environment," Martinez notes.
Additional research by the National Gardening Association closely mirrored the findings in Scotts' research. The association's research found that more than half of all U.S. homeowners with a yard or garden follow only three out of 12 environmentally friendly lawn and landscape practices.
"A lot of folks, for example, didn't realize that if you leave product on hard surfaces, yes, it does work into the waterways," says Su Lok, a company spokeswoman.
Lok added that new packaging materials and processes are being implemented to support the company's environmental initiative. While declining to discuss specifics, Lok did say that Scotts is reducing the amount of resin used in producing bags for its lawn products.
In addition, Scotts will add the environmental message on packages of its Ortho brand of lawn and garden products later in 2006, Lok says.