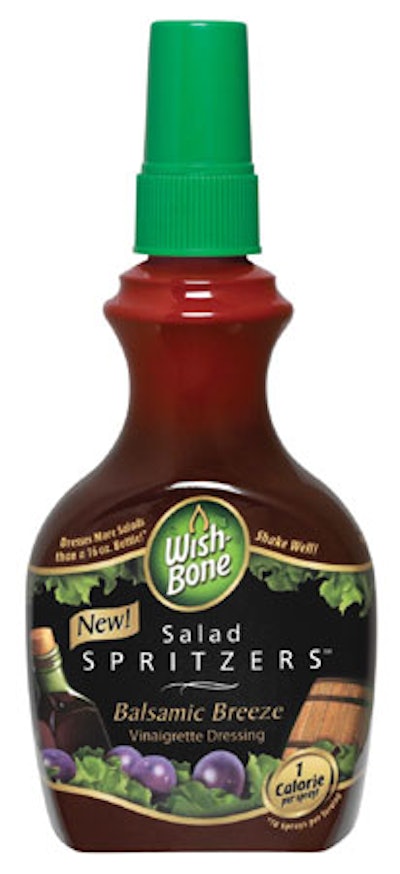 'Spritzing' your salad
This spring, Englewood Cliffs, NJ-based Unilever US introduced a line of three Wish-Bone Salad Spritzers salad dressings in high-density polyethylene bottles equipped with a customized spray nozzle that lets users mist out a one-calorie-per-spray-dose of the liquid onto their salads.
Since showing off the colorful bottles at the Food Marketing Institute 2006 show in Chicago in May, it's been hard not to notice Salad Spritzers in television advertising, even for those of us who don't spend a great deal of time in front of the set.
Balsamic Breeze Vinaigrette, Italian Vinaigrette, and Red Wine Mist Cabernet Vinaigrette dressings were available beginning in May in the extrusion blow-molded bottles that are pigmented white to provide protection from light.
No specific packaging details or suppliers were revealed by Unilever. The bottle is decorated with a full-body shrink-sleeve label printed in multiple colors. The label's primary "Wish-Bone" green color matches that of the injection-molded plastic spray pump's overcap. A tamper-evident neck band completes the package. Product is filled automatically on an existing packaging line.
Franck Valas, Wish-Bone brand marketing manager, says Salad Spritzers retail for about $2.79, though that varies. "We're in about 70 percent of grocery stores nationwide," he says, "as well as super Target and Wal-Mart stores. Retailers have been very excited about the product, and our consumer testing was very positive."
That testing revealed that consumers found the bottle's overall shape and long neck made it easy to grip and dispense the liquid, which includes no particulates that could hinder the misting of the dressing.
"We developed the idea based on consumer testing," says Matthew McCarthy, Wish-Bone senior brand manager. "We wanted to delight consumers." He points out that the spray dispenser's similarity to the company's I Can't Believe It's Not Butter product is merely a coincidence.
"With Salad Spritzers there was a challenge with the packaging and the product. Not only does it have no particulates, but it also had to be ergonomic and functional, particularly for women," McCarthy notes.
"We designed it internally in cooperation with our own Visual Branding Center, which provides creativity and helped us develop a package that has an upscale feel and relates well to our family of products," says Sharon Reiter Lindberg, Unilever design manager.
Companies in this article