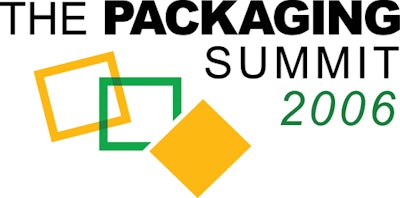 After a successful inaugural run in 2005, Packaging Services Expo (PSE) returns bigger and better this spring, with an added bonus: PSE is a key component of a new, multifaceted exposition and conference called Packaging Summit 2006. The event will be May16-18, 2006, at the Donald E. Stephens Convention Center in Rosemont, IL.
Besides PSE, other components of the Packaging Summit are:
· Packaging Containers & Materials Expo (PCME).
· The Packaging Summit Conference (PSC).
Contract Packaging magazine is a media sponsor of PSE.
But for contract packagers and related services, as well as consumer goods companies interested in purchasing contract-packaging services, PSE is the focal point of the show. The 2006 version, like the 2005 expo, is a niche show developed in cooperation with the Contract Packaging Association and the International Safe Transit Association. PSE is for anyone looking to partner with contract packagers and manufacturers, packaging consultants, research firms, package designers and marketing agencies, package-testing labs, logistics companies, warehouse and distribution companies, package prototype developers, and quality assurance and compliance specialists.
Tarsus Group plc, which is organizing the Packaging Summit with Landon, Farrey & Associates, says last year's PSE drew 105 exhibitors and 1귔 attendees, and more are anticipated this year. The Packaging Summit will again exclude machinery, machinery components, and systems.
Exhibitors will showcase the newest manufacturing and packaging technology services across many diverse end-user industry sectors. Expo attendees will also have the chance to find outsourcing partners.
Besides Packaging Services Expo, the Packaging Summit will feature the Packaging Containers & Materials Expo. The event will explore packaging containers and materials and delve into packaging components.
PCME is being created in cooperation with the Flexible Packaging Association, the Glass Packaging Institute, the Paperboard Packaging Council, the Tag & Label Manufacturers Institute, the National Association of Container Distributors, the Closure Manufacturers Association, and the Tube Council.
The expo is intended for professionals who manage and influence how products are packaged; the target audience is involved in material and container issues, both structural and graphics choices.
The third component of Packaging Summit, the Packaging Summit Conference, has the theme "The Power of Packaging." The conference is being developed in cooperation with the Institute of Packaging Professionals (IoPP).
Following are just a few of the scheduled speakers and their topics:
· Philippe Roulet, head of global packaging, Nestech—"Packaging Innovation for Nèstle Brands: Key to Success in Global Markets."
· George Kress, vice president innovation, Estèe Lauder—"Looking Beyond Packaging for Innovative Ideas."
In addition, the Packaging Summit Conference will include a track on sustainable packaging, starting off with a roundtable discussion, "Strategies in Sustainable Packaging," presented by the Sustainable Packaging Coalition.
The Packaging Summit will also feature a "Hall of Packaging Excellence," an exhibition of award-winning designs from all the major packaging association awards competitions.
In addition, IoPP will display the 2005 AmeriStar Packaging Awards winners in the Hall of Packaging Excellence.
Companies in this article