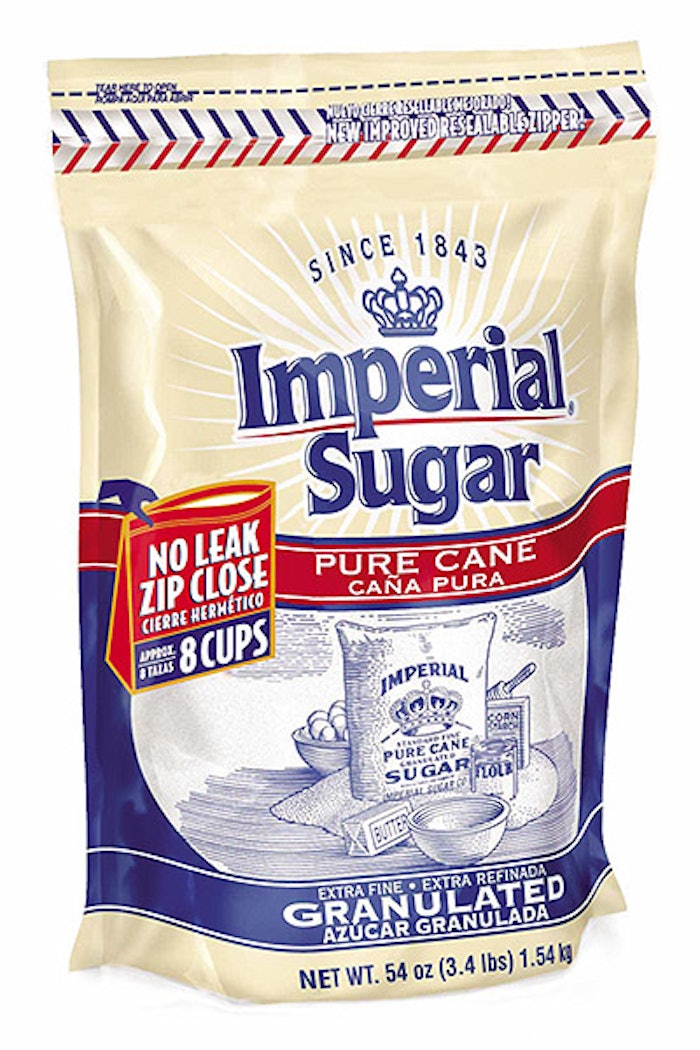 The latest example, from Imperial Sugar of Sugar Land, TX, is a bottom-gussetted stand-up pouch with a resealable zipper. It reaches store shelves this month.
Consumer testing by Imperial found that consumers preferred the pouch over the traditional paper bag because the pouch is leakproof and resealable. The firm thinks retailers will be excited about the new package, too.
"First, consumers will make more frequent repeat purchases of the pouch because of its convenience and size," says Imperial Sugar vice president of marketing Art Saxby. "Second, the pouch won't tear and leak all over the floor. And third, retailers will see a reduction in store labor and product damages thanks to our new one-touch cases."
Supplied by Temple Inland, the corner-post case is made of 32 ECT B-flute corrugated. It holds 10 pouches side by side. Store personnel simply lift off the lid and put the printed display case on the shelf. Each case is branded with bilingual case display and shelving instructions. Three pieces of equipment from Rovema—a corner-post case erector, a case loader, and a cover applicator—assemble and fill the innovative cases.
Pouch material for the new package is supplied by Cello-Foil Products. It's an adhesive lamination of 48-ga polyester and low-density polyethylene. The polyester is reverse-printed on a gravure press in six colors. A Spee-Dee auger filler mounted above a horizontal form/fill/seal system from Roberts Packaging is used to produce pouches from rollstock.
The pouch holds eight cups of sugar, or 3.4 lb. "Sugar is measured by the cup, not the pound," says Saxby. "It made sense to package it in an amount consumers understand." Price points in the store, however, will be the same for the pouch as for conventional 4-lb paper bags of sugar, giving consumers a choice between convenience and more sugar. —Pat Reynolds
Companies in this article