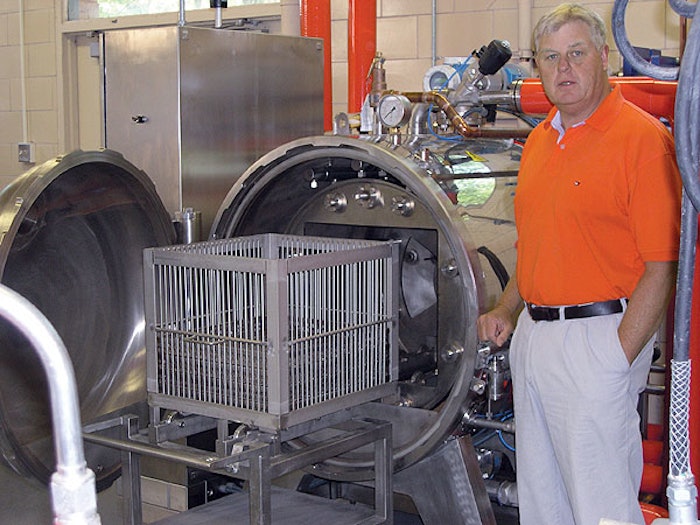 Those questions and his responses follow.
PW: How many students are enrolled in the program, and what are its graduation requirements?
RT: Clemson University student attendance averages 14ꯠ total; with about 150 full-time in packaging. We have December, May, and August graduations. To earn a Bachelor of Science in packaging science requires 136 semester hours in all, with roughly half general education courses and half for major and minor courses related to packaging science. A student has to have 30 semester hours of packaging science courses.
Students are also required to experience a six-month industry co-op. That means they earn class credit while they work with companies all across the country. We have a Cooperative Education Program that coordinates most of that activity. Companies come here to our campus, interview students, and hire student co-ops like they would for a regular job. Students do a variety of tasks that depend on what the company requires. Companies are interested because it gives them an early chance to look at some talent. It's like a long interview process. They'll bring in the student and get them involved in projects such as packaging design, testing programs, and specifications. We certify the co-op job through our Office of Cooperative Education. On average, we have about 50 different companies involved.
PW: Can students customize the program to their interests?
RT: Packaging science is one degree, but within that degree you can take an emphasis, which is much like a minor, in a specific or customized area. A student could major in packaging science, with a minor or emphasis in business/sales/marketing, or graphics and design, or maybe materials science.
PW: Describe the role of packaging suppliers with the program.
RT: Our offices and classrooms are in one building. We have two major laboratories in an adjacent building. One is called the Sonoco Packaging Laboratory, and the other is the DuPont Packaging Evaluation Laboratory. Our new Center of Excellence for Flexible Packaging will be housed in the DuPont Laboratory. We have also received considerable
support from Cryovac and Printpack. These and many other companies have generously donated equipment, time, and knowledge to support our program.
See the story that goes with this sidebar: Clemson links students to 'real-world' packaging
Companies in this article