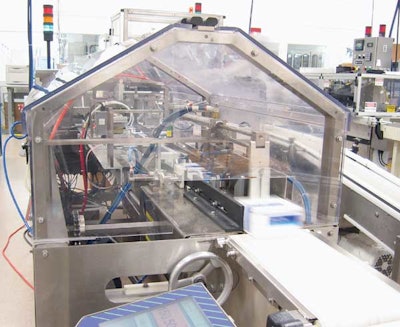 As a manufacturer and private-label packager of inhalants for asthmatics, Nephron Pharmaceuticals Corp. knows the value of timely results. Which is what the company receives from major capital improvements to its packaging operations made over the past four years. Those include the latest line, started up last fall. Packaging World's visit to the operations in Orlando, FL, complete the cost-savings story begun in our September 2003 issue, which detailed the upstream operations (see packworld.com/go/c099). Those operations include blow/fill/seal of low-density polyethylene unit-dose 3-mL vials formed 48 vials/cycle/machine into "cards" of six attached vials.
These new operations comprise flow wrapping, cartoning, and casing. Nephron president Steve Simmons, who retired several months ago, says these parts of the operations initially employed 10 operators/shift for four shifts. With the modernization, only three operators are usually required per line. Based on labor savings alone, Simmons says payback is one year per line. Simmons says the latest startup required only two days' shakedown.
The line equipment was procured and installed through distributor Wei-Pak. "The delivery time to startup with Wei-Pak was the fastest of any company I've ever worked with where entire lines were installed," says production veteran Eric Heussi, Nephron's manager of engineering services.
That was despite the fact that the revamped lines had to fit into the available space, a process Simmons compares to a jigsaw puzzle. Wei-Pak has seen to it that all the pieces fit. "Within a week to 10 days of the startup, we were producing at production volumes," says Heussi. "That's pretty remarkable."
The cards are oriented and run through a leak detector before being collated on a stacker mechanism from Westlund Engineering, which provided several pieces of equipment on the line.
A five-high, 30-count stack of cards are conveyed in flights through a Sinlon S.L. Package Machine flow wrapper, built in Taiwan and represented in the United States by Marpak. Simmons characterizes the wrapper as their "smoothest startup" piece of equipment on the line; Heussi adds that it "works beautifully."
High-accuracy weigher
The pouched packs proceed through a Hi-Speed Checkweigher load-cell-equipped bucket weigher. The Micromate® unit momentarily catches the pack in the bucket, weighs it via a load cell, and then releases it to a right-angle conveyor if okay. If not, it drops through a gate and is collected.
"The weigher is very accurate," emphasizes Heussi. "It can detect a missing vial out of 30. In fact, it can even detect a vial that's two-thirds full, which is just a two-gram weight difference."
Packs make a turn on a 90º conveyor and head to the cartoner's pick-and-place section. An operator positioned here squeezes each pack to ensure that it has an air-tight seal, and then returns it to the bucket conveyor. Across from this bucket conveyor is another one, moving in the opposite direction, that's the cartoner's infeed conveyor. A pick-and-place unit transfers the pack from the operator-side conveyor to the cartoner's infeed bucket conveyor.
Meanwhile, a rotary pick-and-place unit has placed a folded piece of product literature into the second bucket conveyor. This pneumatic placer is from Westlund.
A scanner confirms the presence of folded literature before the pouch is picked and placed. A second iteration is used for 60-count cartons. Heussi says the changeover time going from 30- to 60-count packs is 20 minutes.
Cartoner is 'forgiving'
The bucket conveyor and Spartan® cartoner are from Econocorp.
"The Spartan cartoner performs very well and is easily maintained," says Heussi. He says the cartoner is especially forgiving of variances in carton materials. That can be accentuated in Florida's humidity, which has a tendency to cause paperboard cartons to curl and warp. The cartons are hot melt glue sealed.
The cartoner is capable of running at more than three times Nephron's output, which is 15 cartons/min. Cartons contain one or two pouches.
The cartons are discharged from the cartoner and are conveyed to a Hi-Speed Checkweigher unit from Mettler-Toledo. Heussi says it is used primarily to reconfirm the presence of the literature.
The cartons are hand-packed 12, 24, or 30 per case into corrugated shippers that are placed ahead of a top-and-bottom sealer. An Auto Labe print-and-apply unit applies a corner label that wraps around a case edge. It is imprinted with bar coding and product information.
"We used to print out labels and apply them manually to the cases," observes Heussi. "This eliminated a position."
Cost savings: The food factor
The cases are then shipped to wholesalers who sell to hospitals, which includes Veterans Administration facilities. Founded in 1937, privately held Nephron produced one type of product until 1997. It now has an 8% share of the respiratory market, according to Simmons. The company's growth can be attributed to competitive pricing, itself a result of low overhead compared to its competitors, according to Simmons. "We produce with less than half the production costs of our competition," boasts Simmons.
How do they do it? Simmons says that a key to their cost containment includes using equipment from outside the pharmaceutical industry. Critical to that has been using equipment intended for food packaging applications. "The cost is only about one-third, and the performance is comparable," says Simmons.
This kind of cost-reducing strategy won't make Nephron's competition breathe any easier.
See the sidebar that goes with this story: Film test results
Companies in this article