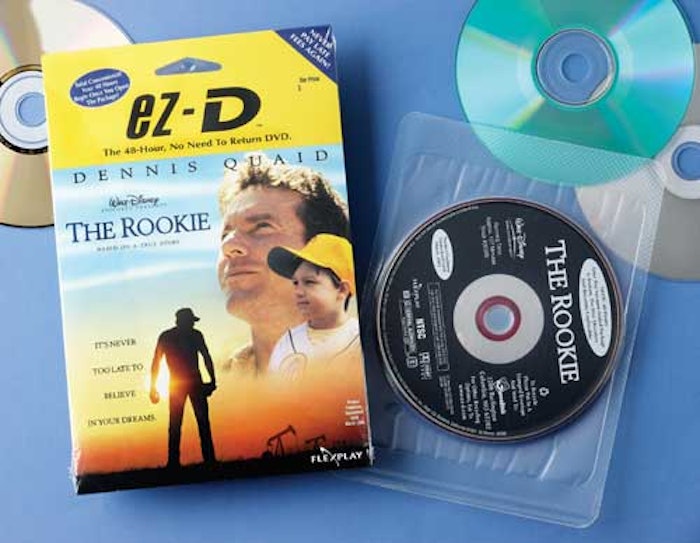 A DVD with a freshness date? That's the basis for ez-D™, a perishable, no-return, no-late-fee DVD from Disney's Buena Vista Home Entertainment Div., Burbank, CA, that plays into consumer convenience.
Crucial to the concept is the packaging, which relies on the Cryovac OS System of oxygen-scavenging technology from Cryovac Div. of Sealed Air. The system comprises film and specialized in-plant equipment. This is the first nonfood application for OS technology.
Once the ez-D package is opened, a proprietary oxidation process begins that discolors the disk and makes it unreadable after 48 hours. Until then, it remains viewable as many times as the user desires. Unopened, the ez-D packs have a one-year shelf life preprinted on the sleeve as "Product Freshness Guaranteed Until" followed by the date.
The perishable DVD technology was developed by Flexplay Technologies, which licenses its technology to Technicolor Home Entertainment, a division of Thomson that packages the ez-Ds. Referred to as a "partner" by Flexplay, Technicolor is basically a contract packager.
In-plant details
Technicolor has been operating a Multivac Model R 240 thermoform/fill/seal machine since April 2004 to produce the packs in a 2x4 pattern at a rate of 10 cycles or 80 packs/min.
Cryovac's 4104 Series ultraviolet light-triggering system—four banks of UV lights—that activates the film's oxygen-scavenging ability straddles the tf/f/s system. The system also includes a Scavenging Verification System, an online quality control system that confirms that the film has been activated.
The Cryovac films used comprise a bottom-forming web of a proprietary multilayer 10-mil material with ethylene vinyl alcohol barrier, and a top-sealing web of 3.5-mil OS oxygen-scavenging film. The ez-D packs undergo vacuum removal of air and nitrogen backflushing before heat sealing. Cryovac claims that its second-generation OS films remove oxygen 10 to 20% faster than before, achieving "parts per million" oxygen levels typically in three to eight days. That's less than one-tenth of one percent when starting at an initial oxygen concentration of less than 2%.
Pack format changed
In May 2004, ez-D's packaging was revamped.
Disney's packaging specialist Alexis Hemphill, senior planner, operations, refers to the thermoformed inner barrier packaging as the "flat pack." The flat pack measures 5 1/4''x 7 1/4". Rather than affixing a full-front-panel, pressure-sensitive 12-pt SBS label, the flat pack is now inserted into a three-side-sealed 15-pt SBS "envelope" that's offset-printed by Wynalda Litho. The envelope measures 5 1/2'' by 8 1/2''. The entire package is shrink wrapped by Technicolor using 60-ga shrink film that is also from Cryovac and that makes the pack "tidier and easier for retailers [to merchandise]," according to Hemphill.
"It came down to product appearance and consumer reaction," says Hemphill, who likes the pack's increased rigidity. "We wanted to raise product visibility to something more high profile." The redesign also makes the packs peggable through a die-cut hole and increases the pack's billboard space by adding the back panel via the envelope.
Besides cost savings, the reformat also improves functionality because the width of the seals has been increased and overall oxygen ingress has been reduced, according to Hemphill. She expects that combination will permit them to increase the product's shelf life, perhaps to 18 months. The new format has a small, narrow view-window die-cut into the back of the envelope so that consumers can visually see by a color-changing ring on the ez-D inside that it is unexpired.
DVDs more demanding than food
Cryovac's Tom Kennedy says that the ez-D DVD application is more demanding than for food. "Most food products are carefully controlled in terms of temperature and handling conditions," he says, "while DVDs are not. In stores, the ez-Ds face a much wider range of temperature and humidity, making it more demanding than food packaging applications for this active barrier technology." Kennedy believes the Cryovac technology is ideal for this application since most alternative oxygen-scavenging technologies such as iron-oxide-based systems require moisture for activation.
Launched in four test markets in September 2003, the ez-Ds are currently available at select 7-Eleven and Papa John's Pizza outlets. As result of the "enthusiastic response," BVHE expanded the test market to four more cities in April 2004. The suggested retail price has been lowered from $6.99 to $5.99.
Flexplay spokesman Larry Reiff says more than 45 ez-D titles are now available, including movies Pirates of the Caribbean and The Rookie.
"As evidenced by subscription services such as Netflix, consumers are looking for new ways to watch movies without the hassles of the traditional rental process," says Reiff. "Ez-D offers consumers the hassle-free experience with the additional convenience of purchasing a tangible item where they are already shopping."
Reiff points out that 90 million DVD players have been sold in the United States. "Consumers love the format—it's going to be around for a while," he adds.
To address environmental concerns, Flexplay has partnered with GreenDisk, a specialized electronic waste-recycling company, for the collection of expired ez-Ds. In addition to drop-off locations, a prepaid mailer is available from Flexplay's Web site. BVHE offers an incentive of one free disk for every six expired disks that are returned by mail.
Companies in this article