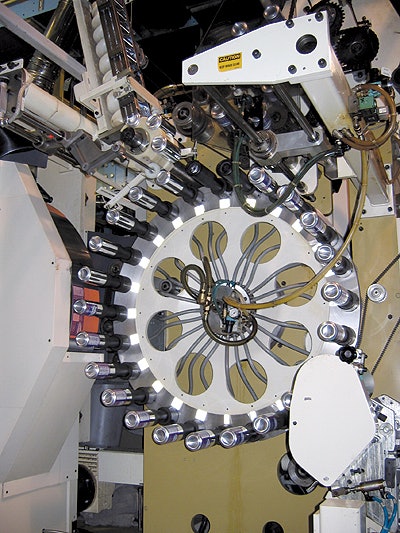 This month, select retailers in Latin America and the Caribbean began to carry Welch's 7.5-oz Welchito fruit juice drinks for kids in aluminum cans with updated graphics. To get the beverages to store shelves in time for the back-to-school season in those geographic markets, Concord, MA-based Welch Foods enlisted a team that included can decorator Rexam Beverage Can Americas, design firm The Bailey Group, and color separator Southern Graphic Systems.
"We've had a long-term relationship with Rexam, going back to when it was American National Can," explains Mary Hiltz, Welch's graphics manager. "Rexam produces all of our Welchito cans. I like the fact that they have a pilot line where we can view the graphics that will appear on the cans. It gives us a greater comfort level." The pilot line allows Welch's to conduct test runs before large-scale commercial production runs.
Hiltz was carefully looking at graphics for Welchito cans on the day of Packaging World's recent visit to the pilot line at Rexam's Beverage Technology Center (BTC) in Elk Grove Village, IL. The facility houses integrated graphic art and printing operations, as well as a pilot can decorating "line" comprising an eight-color dry-offset printing press from Polytype. Aluminum can bodies are supplied by another Rexam plant. Vacuum pressure holds each can on a mandrel that carries it through the printer.
After printing and curing, Hiltz can give the redesigned can graphics the eye. "The advantage to looking at cans on this pilot line is that I have opportunities to make changes if necessary," she says. "If it doesn't work on the pilot line, it sure isn't going to work in production. Rexam has a very good press for graphics prototyping. It's probably the best for this kind of work. It's the most accurate we can get for can proofing." Plus, she quips, "If I go into a can production plant to look at proofs, I'm probably going to slow down production, and can-making companies are under a lot of pressure to maintain efficiencies."
Appeals to Moms, too
"We wanted our graphics to appear more contemporary and to have more shelf impact," says Hiltz. "Yet we didn't want to lose the design that we had established with the Welchito name."
An essential update the can had to deliver was to emphasize the addition of Vitamin C in the reformulated drink. To do so, a graphic near the top of the printing says, "Now with 100% RDA Vitamin C."
"We had to make sure that Moms would recognize the quality and integrity of the product," notes Sabrina Libby, Welch's director of international sales and marketing. That said, much of the graphic redesign focused on delivering "kid appeal."
"In Spanish, the 'ito' suffix is viewed as very sweet, endearing, and precious," says Libby. "So that's where the name 'Welchito' came from, meaning 'little Welch's.' The product is really for children, with the squat can designed to fit into small hands. The graphics were redesigned with a font that's a little more whimsical, fun, and entertaining."
Previous graphics were similar, but Libby says they "didn't have the same 'pop' that these do. We have enhanced the background icons on the cans so consumers can more easily see that they are tropical and fun. They include elements such as sunshine, a Palm tree, and a pineapple."
She says that Welch's lets the shine of the aluminum itself add to the can's overall graphics effect. "We don't apply a base white coat to the can, so the silver presents a shimmery, glistening look on the shelf. It's distinctive from anything else on the market in Latin America and in the Caribbean," says Libby.
Prepress steps
The Bailey Group created a series of designs from which Welch's selected elements. "We gave instructions to the design firm to provide designs that they thought would work for the product. These ranged from close to our current design to as 'far out there' as they thought we could go," says Hiltz.
After final designs were selected for the five varieties, Welch's employed an artist to create computer illustrations. All the cans include bilingual copy—English and Spanish. That was challenging, she says, because there are some Spanish words that carry different meanings in the various Spanish-speaking countries. "That was the case for the word 'mango,'" says Hiltz, "so we had to identify our mango/passion fruit flavor for the primary markets, Puerto Rico and Mexico, where it's sold."
Once Welch's approves the final illustrations, digital files are sent to Southern Graphic Systems. They create color separations, sending computer files to Rexam's Elk Grove Village facility. There, adjustments are made so that the art will print properly during commercial can production. Rexam uses an image setter to make film from the computer image, sending a color proof to Welch's for approval. Once approved by Welch's, the image is sent to Rexam's platemaking department for creating the cans on the pilot line.
Hot filling
When Welch's approves the pilot line printing, files are transferred to Rexam's facility in Whitehouse, OH, for production decorating of the 211x307 aluminum cans. The second piece of the can is a 202-sized pull-tab end from another supplier. Cans and ends are shipped separately to Welch's Northeast, PA, plant for hot-filling. "Welchito has 7.5 ounces, but we actually buy an 8-ounce can," says Hiltz, "because during hot filling, we have to allow for some foaming of the product." Liquid nitrogen is added to help pressurize the cans.
Welchito is marketed as a shelf-stable beverage. It's now available in five flavors instead of just two varieties. Product shelf life is 12 months, with cans sold as singles, and in 48-count cases for warehouse and club store sales. The redesigned cans did not change the product's retail price.
"We've experienced explosive sales growth of the product in Latin America and in the Caribbean," says Libby. And what about sales of Welchito's in the United States?
"We've done tests in the United States in some Hispanic areas, primarily in New York, Miami, and Los Angeles, and we're considering further testing in those areas. It's an absolutely huge [market]," Libby says.
Companies in this article