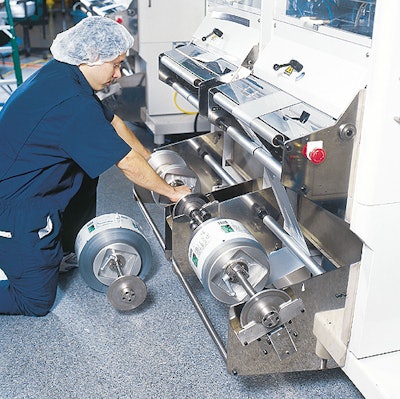 Nephron Pharmaceutical Corp. of Orlando, FL, uses blow/fill/seal technology to produce vials of liquid inhalation solution used in respiratory therapy. For years the firm has packed 30 or so vials in a laminated foil pouch that was then cartoned for shipment to markets nationwide.
Lately, however, Nephron finds more and more customers asking that each vial be packed individually in its own film. Satisfying this preference has led Nephron to invest in an automated system capable of handling a growing demand for this kind of packaging.
Why this shift toward individually wrapped vials? Partly because without such wrapping there is a chance for mis-dosing. Pharmacists or hospital personnel who open a bulk package dispense the required number of vials and put the rest back on the shelf, maybe in their carton or maybe not. If not, then the only remaining identification on each individual vial is the embossing along the side. The embossing, of course, is in very small characters because the vials themselves are small. That can lead to confusion, which in turn can lead to mis-dosing.
Also steering Nephron customers toward individually wrapped vials is the feeling that the contents of the vial are better protected if each vial is individually wrapped.
"The vials are made of low-density polyethylene," says Nephron president Steve Simmons. "That means certain chemicals—sometimes found in paperboard or the inks used to print it—can migrate through the packaging material and into the product."
For some Nephron customers, individually wrapped vials are unnecessary. The vials are used in such large numbers that once a bulk pack of 30 is opened, there's no need to return unused vials to a storage shelf. Or the vials are used so quickly that there isn't enough time for migration through LDPE to occur. But not all customers fit this description. Some have a distribution network or usage pattern that makes individually wrapped vials desireable. These customers are willing to pay an upcharge for the extra packaging.
"Individual wrapping of each vial does add a few cents to a vial," says Simmons. "We pass it along. These are customers who are willing to pay a little more for packaging because it meets their particular needs."
Automated system
The packaging line assembled by Nephron to produce individually wrapped vials consists of a blow/fill/seal system, a vibrating bowl, a leak detector, an orienter/cutter, six vertical form/fill/seal machines, a vial counter/cartoner, a checkweigher, and a laser coder.
The aseptic blow/fill/seal unit at the head of the line is an Asep-Tech® Model 640 system from Weiler Engineering. It continuously extrudes LDPE in tubular shapes on which forming molds close. The parison is cut, and the LDPE portion at the bottom of each mold is pinched closed while the top is held in place by a set of jaws. The mold is then transferred into position under the filling station.
The nozzle assembly lowers into the molds until the nozzles are sealed to the neck of the mold. Vial forming is completed by applying vacuum on the mold side of the container. The patented electronic fill system then delivers a precise 3-mL dosage of product into the container and the nozzles retract to their original position.
With filling complete, the top of the container remains semimolten. Separate seal molds close to form the top and hermetically seal the container. The molds open and the containers are conveyed out of the aseptic filling machine. The machine produces 48 vials/cycle.
On to secondary packaging
As vials exit the Weiler machine, they're joined to each other in "cards" of six vials each. An orienter from Performance Feeders sends the cards through a leak detector from 4-B. The cards then drop into a large bucket.
An operator carries the bucket of cards to the secondary packaging operation. The bucket is dumped into a vibratory bowl that orients the cards of vials so that they can be conveyed through an infeed conveyor system from Westlund Engineering. It feeds cards to six vertical f/f/s machines from Tokyo Automated Machinery. When a TAM machine needs a card of vials, it signals the Westlund infeed system to send a card forward.
Above each TAM machine is a cutting unit. When it receives a card of six vials, it slices individual vials from the card and drops each vial down the forming tube of the machine below it. Heat-seal jaws enclose the vial in flexible film as it unwinds.
Also mounted on each TAM machine is a Markem thermal-transfer printer that puts lot number and expiration date on the flexible film wrap.
As wrapped vials drop out of a TAM machine, they're conveyed up a 45 degree angle and onto a conveyor belt leading to a counter. Before reaching the counter, each pouch has its preprinted bar code scanned. Contained in the bar code is the National Drug Code (NDC) number, the unique identifying information about the drug. If a vial containing Product A somehow winds up in pouch material intended for Product B, that mixup is detected by the bar code scanner and corrective steps are taken long before the vial comes anywhere near a patient or health care professional.
Next, a counting system uses a sensor and a pocketed rotating device to drop vials into cartons. The counter waits for five vials to fill a pocket before rotating and positioning the next pocket to receive its five vials. As the device rotates, the pocket drops its five vials into a waiting carton. Cartons of 30 vials each are tucked closed by hand and sent through a Hi-Speed Checkweigher that rejects any carton with an improper weight. Finally, a laser coder from Markem puts lot number and expiration date on each carton before case packing is done by hand.
Foil-based wrap
The material used to wrap the vials, supplied by Flexicon, is a three-layer adhesive lamination of polyester/0.5-mil foil/polyethylene. The polyester is reverse-printed flexo in three or four colors.
"The overwrap is effective at keeping contaminants from migrating into the vial," says Simmons. This includes anything from oxygen to chemicals to light.
"Machinability is very important to us," adds Simmons. "Flexicon's material works very well on our equipment."
Although that equipment—and the rest of the gear in Nephron's new vial line—is only a couple of years old, Simmons makes it clear that Nephron is already looking into the future to see what the next new thing will be.
"We want to do everything we can to produce our product in compliant packaging that not only satisfies the government's requirements but also serves the needs of our customers," says Simmons. —PR
Companies in this article