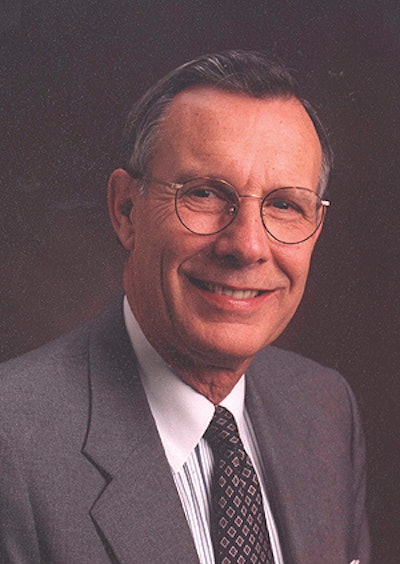 The Packaging Education Forum (Arlington, VA) will induct five career packaging professionals into the Packaging Hall of Fame during its annual Packaging Leadership Awards ceremonies. This year's inductees are Richard C. Botsch (posthumously), Kenneth J. Gollmann, Thomas E. Hogue, Norman Nieder, and Charles E. Perrin, CPP.
The Class of 2002 Packaging Hall of Fame inductees will be recognized during the Packaging Education Forum's Packaging Leadership Awards ceremonies on November 5th beginning at 5:00 p.m. in the Vista Ballroom at McCormick Place, Chicago, IL. The awards reception and buffet dinner will be held in conjunction with Pack Expo International, November 3-7, 2002 at McCormick Place.
"PEF members voted to induct these five highly capable, dedicated packaging professionals into the Packaging Hall of Fame based on their professional achievement and commitment to packaging education," commented Ben Miyares, president of the Packaging Education Forum. "The entire packaging industry will honor their career efforts at the PEF Packaging Leadership Awards ceremonies in November."
The inductees, chosen by the PEF membership from a field of nine nominees this year, were selected because they:
1. Showed an active interest and involvement in expanding packaging knowledge, supported formal packaging education, and furthered an understanding of packaging's contributions to society.
2. Contributed significantly to the technical, marketing, or economic advancement of the packaging field.
3. Demonstrated leadership within their organizations, communities, and the packaging business at large.
The inductees
Richard C. Botsch (1932-2001)
In a career that spanned nearly 30 years at DuPont, Botsch spent several years supervising the packaging and package design for the company's car care, anti-freeze, and household products. He was involved in more than 40 complete new package products during this period, involving technical and marketing issues for the DuPont lines.
He joined Printpack in 1981 and was named director of marketing in 1986. Over his career with Printpack, Botsch served on the board of directors of the Flexible Packaging Association (FPA) and the Snack Food Association (SFA). He served as co-chairman of SFA in 1995-96.
His contributions to packaging education included involvement and membership — both individual and corporate — in the Packaging Education Forum. He was an active member of the Packaging Advisory Board at Clemson University and was recognized as a distinguished lecturer/practitioner at Georgia Tech University.
Botsch passed away in May of 2001.
Kenneth J. Gollmann
Gollmann began his packaging career at Consolidated Packaging Machine Corp. in 1959. He was President of Consolidated Packaging Machine Corp. for 15 years and saw the company through ownership by International Paper and Figgie International.
As President of Consolidated, Gollmann became executive representative of the Packaging Machinery Manufacturers Institute (PMMI.) He served on the PMMI board of directors from 1982-1985, including one year (1985) as its chairman.
Active in the Packaging Institute, he served on several committees (Finance, Eastern Equipment, and Petroleum Packaging), then was a member of the organization's board of directors for several years, including one year (1970) as chairman. He is a lifetime member of the IoPP and served on the Packaging Education Forum (PEF) board of directors during the 1980s.
Through his volunteer leadership at PI, PMMI, and the PEF, Gollmann has strongly supported funding packaging programs through donations and curriculum development.
In 1985, as PMMI Chairman, he introduced a packaging education grant funding project that ultimately culminated in three schools receiving $750ꯠ over five years to fund "PMMI Professorships." In addition, for many years he served in an unofficial capacity as packaging curriculum advisor to the Rochester Institute of Technology's Packaging program.
Thomas E. Hogue
Hogue, who retired earlier this year as director of Packaging Markets for DuPont Packaging & Industrial Polymers, served on the Board of Directors of the Packaging Education Forum for a number of years, including four years as its chairman.
Hogue served on the Packaging Advisory Board of Clemson University and was instrumental in establishing the DuPont Packaging Evaluation Laboratory at Clemson in 1999.
Norman Nieder
Throughout his career, Norm Nieder has been one of the most outspoken proponents of the value of packaging's contribution to both his enterprise and to society. At Anheuser-Busch, where he served as director of packaging technology until his retirement in February 2002, he strongly supported packaging education primarily through his interaction with the University of Missouri/Rolla's packaging school.
Nieder was very active in a number of organizations supporting packaging: PMMI's Packaging Management Council, the Master Brewer's Association of the Americas, National Beverage Packaging Association, NSBT, and ISBT.
Charles E. Perrin, CPP
Chuck Perrin started his packaging career at Eli Lilly and Co., where he designed the product formulation and packaging operations layouts for the first company plants built in Puerto Rico. He then managed injection and blow molding product operations at Creative Packaging Co. He also worked for Elizabeth Arden in London, England, and most recently retired from Dow AgroSciences, where he was a packaging consultant and engineering specialist supporting global production operations and new product implementations.
Perrin has served as a member of the advisory committees for Michigan State University's School of Packaging and the packaging program at Indiana State University. He has lectured or moderated numerous packaging presentations including Polypack 2000 at the Cal Poly School of Packaging, the 12th International Student Packaging Conference at Indiana State in 1999, and the 1983 senior class of the Michigan State School of Packaging.
A certified packaging professional and a fellow of the Institute of Packaging Professionals, Perrin currently serves as chairman of the IoPP's board of directors and is an honorary member of IoPP's Technical Council as well as its Chemical Packaging and Drug & Pharmaceutical Packaging technical committees.
Tickets for the PEF Leadership Awards ceremonies are $150 per seat. Proceeds of the event support college-level packaging education programs in the United States and Canada. For reservations or sponsorship opportunities, contact Sara Kryder, Communications/PEF Assistant, at (703) 243-5717.
Companies in this article