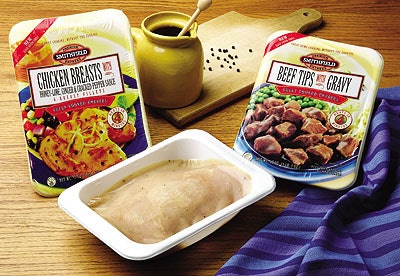 Available in July, Smithfield Premium Entrées use Darfresh® Heat'n Serve Package technology from Cryovac Div. Sealed Air (Duncan, SC).
The breakthrough is a polypropylene-based tray that's surface-laminated with an ethylene vinyl alcohol self-venting sealant. The tray is sealed with a 6-mil coextruded vacuum skin packaging (VSP) film, also with EVOH barrier.
Consumers remove a trayed 17-oz entrée from a heat-sealed, printed overwrap, place it in the microwave, and heat it for four minutes. During microwaving, the VSP film balloons from the steam. It's designed to vent in the seal area along the sides away from the "handles." The white oval tray's extended end flanges keep consumers' fingers safe.
The entrées are VSP-packed three-up at rates to 35 trays/min using new Multivac (Kansas City, MO) Model T570CD equipment installed at Smithfield's Valley Dale Foods plant in Salem, VA. After thermal processing, the products are chilled and sealed in a colorfully printed and shrink-wrapped outer bag, then case-packed for distribution. The shelf life is 60 days. The entrées had been on the market since February in boil-in-bag (or microwave) form that was trayed and overwrapped. For Smithfield, the new packaging carries only a 5¢-per-unit premium over the previous pack, according to Willes. The products are sold in six varieties for up to $5.99 along the East Coast and west to Texas. "Wal-Mart is taking it on," Willes adds. He anticipates that product will be available nationwide by the end of this year. —RL
Companies in this article