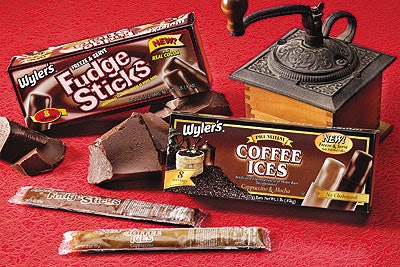 Although ConAgra, Tree Top, General Mills, Kraft General Foods and other major marketers introduced tubes only recently, The Jel Sert Company's familiarity in tubed products goes back to 1963. Since then, the West Chicago, IL-based company's tubed offerings, such its Fla-Vor-Ice, have focused on kids' markets.
This changed in 1999, when Jel Sert launched Wyler's Italian Ice, not solely geared to children. "That was a springboard toward two new products," says president Ken Wegner, who points out that the company was the first to offer shelf-stable confections for freezing by consumers.
Those two new products are 2-oz tubes of Wyler's Fudge Sticks and decaffeinated Coffee Ices, formed/filled/sealed either 8- or 10-up via proprietary high-speed machinery.
Wegner says the company uses the same type of self-developed, self-designed equipment for all products. "We've made the equipment faster and more efficient over the years," he adds.
Both products are packaged using clear film printed in one color, white. The eight-count cartons are printed in dark, adult-oriented browns. Coffee Ices cartons contain four tubes each of two flavors.
Wegner says the products' film structure must withstand product expansion in freezing, and this currently doesn't permit tear-notch opening convenience. But they are exploring that option.
Although Fudge Sticks are aimed at a wider audience that includes children and adults, the Coffee Ices are "definitely aimed toward adults," notes Wegner. "The success of Yoplait Exprèss tubed yogurt showed that adults will eat out of a tube," he has said in a Daily Herald (Chicago area) newspaper report.
See the story that goes with this sidebar: Tube packs tap timely trend
Companies in this article