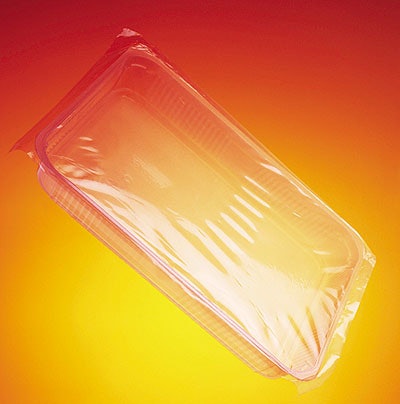 This summer, Italian supermarket chain IPER will begin selling fresh food such as pasta in thermoformed containers and heat-sealable film lidding both made from polylactic acid. PLA is a plastic resin developed by Cargill Dow LLC (Minnetonka, MN), marketed under the name NatureWorks™ PLA. Made from renewable resources, the resin can be converted much like petroleum-based resins—except that PLA is compostable.
"PLA is a versatile material that allows us to provide our customers with a natural food product protected by a natural package, an important combination that allows us to differentiate ourselves from the competition," says Mario Spezia, IPER's sales director. "It delivers the performance we were searching for, so much so that we are beginning to explore NatureWorks for packaging our private-label products in all 21 of our stores."
IPER plans to develop in-store signage to educate consumers about the material. Store management will also train its employees so they can address consumer questions.
The NatureWorks technology produces the resin by "harvesting" carbon from plants such as corn. PLA resin is extruded into sheet by converter Autobar Disposables Group (Brentford, Middlesex, England). Autobar then thermoforms the sheet into trays. The PLA film is converted in Germany by Trespaphan, represented in the United States by Trespaphan America (Greensboro, NC). A label is applied onto the lidding film to complete the package. At press time, an image of the complete package was unavailable. —JB
Companies in this article