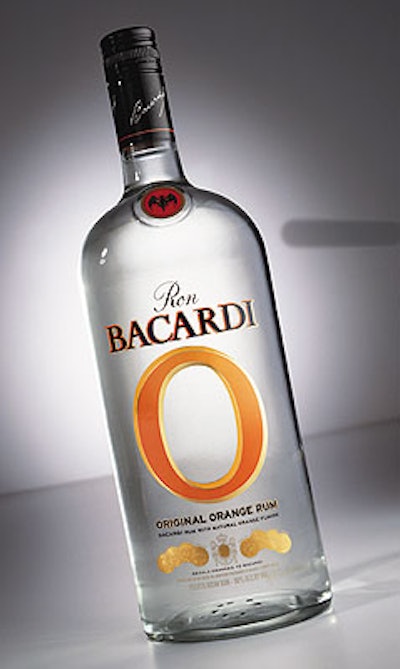 To leverage its already strong presence in the wine and spirits market, Miami-based Bacardi has introduced a new orange-flavored rum called Bacardi O. Packaging was carefully designed to maintain brand identity while establishing the rum as its own, unique product entry.
"We were looking to expand the premium image attributes for the Bacardi rum trademark among clear spirits drinkers and, just as important, to position the new brand extension without cannibalization of the already successful Bacardi Limón," says Yousef Zaatar, new product development and packaging coordinator at Bacardi.
Because the 750-mL glass bottle containing the new rum is identical to that of Bacardi Limón, designers were asked to create a high-impact pressure-sensitive label that would alert the consumer about the difference between O and Limón and also communicate the flavor of the new product. Staff at Bacardi teamed with design agencies Gianninoto (New York, NY) and Jones, Knowles, and Ritchie (London, England) to come up with a series of bottle and label prototypes. The development team included label converter Fleming Packaging (Orlando, FL) and Avery Dennison, Fasson Roll North America (Painesville, OH), the company that was chosen to supply the p-s label materials.
Initial concepts involved a frosted bottle with a clear, circular label through which the product could be viewed. However, early focus groups led the team to reconsider.
"Our consumers are a very sophisticated group," says John DiGianni of Gianninoto. "They thought the frosted bottle was better suited to a vodka product, not rum. They forced us to question our own assumptions."
Armed with the focus group feedback, the design team switched to a clear rather than frosted bottle. The circular label retained its shape but, instead of being clear, is now foil stamped.
From square one
Also, a drop shadow was added to the O, replacing the solid circle. The label material, supplied by Avery Dennison, was particularly critical because registration tolerance is quite tight. The label is screen-and flexo-printed in eight colors by Fleming.
"Of course, we always require a premium label look for a company like Bacardi," says Joe Tenhagen, vice president and general manager at Fleming. "But in this case, the variability tolerance was even tighter than usual, as brightness and opacity were keys to creating the right look. We also needed exceptional durability. This product has to go right into the freezer, then defrost. The ink couldn't scuff or fade, and the label couldn't turn cloudy even under the most extreme temperatures.
The large size of the label also required good cross-directional conformity to ensure solid machine-direction orientation, registration, and die-cut. Additionally, the label needed to be heavy enough to handle properly on the press.
The team chose Avery Dennison's Crystal FasClear®, a 2.5-mil polyolefin film with a robust top coating. This material permitted converter Fleming to produce a label with excellent adhesion, good clarity, and on-press stability. It also holds up well from the freezer to the table.
Preliminary indicators put the new orange-flavored rum up in sales from the initial forecast by 20%. Bacardi O is distributed nationally and retails for $12 to $14 in most liquor and grocery stores.
Companies in this article