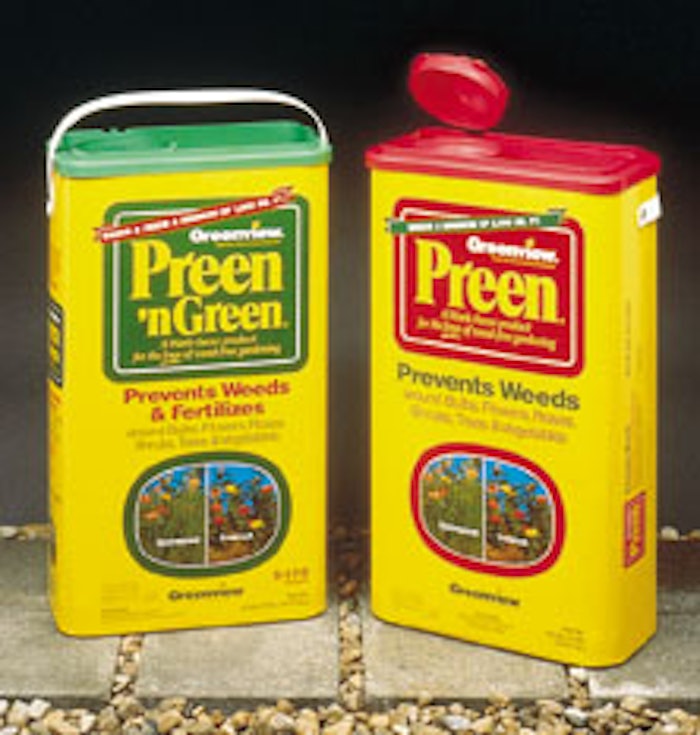 '96, p. 121, or packworld.com/go/preen). This year, the Lebanon, PA-based company has further modernized by adding a recently developed polyester barrier film to the canister, both supplied by Dorpak (Cincinnati, OH). The film makes the canisters weather resistant, allowing mass merchandisers to sell the product outdoors, an advantage they did not previously enjoy.
The package's sidewalls consist of 48-pt paperboard laminated to a two-part structure consisting of 1.2-mil polyester film and 80-lb label stock. The film prevents water penetration of the label. Decoration is provided by a four-color, offset-printed label.
The recessed paper bottom is laminated with 1-mil polyethylene film. The sidewalls use the thicker polyester to withstand potential moisture and the heat necessary during forming.
The new Preen canister continues to use an injection-molded polypropylene snap-fit lid with a stacking ring, and a snap-fitting 4" opening and cap with a 48-ga polyester membrane to provide tamper evidence.
Available nationwide, Preen weed preventer sells for $19.95 to $22.99. (ALR)
Companies in this article