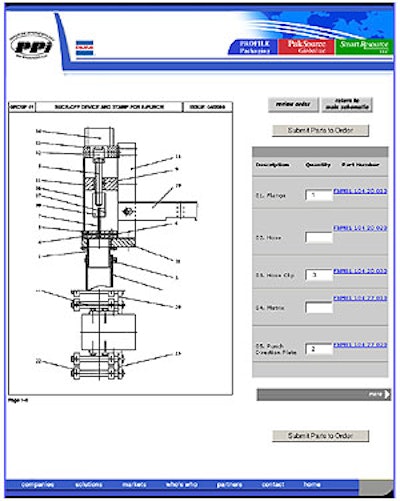 When Sun-Maid Growers of California, Kingsburg, CA, invested in a PPI Technologies/Profile Packaging horizontal pouch machine, more than just manuals was included in the package. Sun-Maid project engineer Ed Hobock and staff were introduced to PPI's Web-based spare parts ordering program, called PartSource™. PPI provided Sun-Maid with a specific code number for its new machine. When Hobock enters the site (www.ppitechnologies. com), he simply clicks on "e-source," which brings him to the log-in screen. By entering the machine code number, he gains access to a complete parts manual along with digital pictures and settings of the new pouch machine. "Every part that is on your machine is in the Internet system," he says. This new service has made purchasing easier for Sun-Maid, which is now using it to buy up to $4ꯠ/month of spare parts for two of its machines.
Get it right Hobock tells Net Sourcing that ordering and receiving the right part is the biggest benefit of online purchasing. According to Hobock, previously, many parts that were ordered were wrong, partly because operators had a hard time identifying the needed parts. "It is a lot easier to identify the right part now with this online system that is very user friendly," he says. "The operator does not need to know much except which area the part is located in." PPI provides an online drawing or blueprint of each customer's machine. Hobock can simply click on the section in which the part is needed, instead of searching through a manual, and find a detailed description of each spare part in that area. "Now we have better identification of parts to communicate and get the right part ordered," he says. "There is efficiency added and money saved over sending the part back and waiting for the right part to come in." PPI also takes digital pictures of the machine right after it is set up. "Pictures of all the different settings of your actual machine are taken," Hobock says. "This is very helpful. If you have a brand-new operator or if you forget the settings, you can go online and see the digital pictures showing how your machine was originally set up."
Identifying problems Having the capability to review order history has saved Sun-Maid about $1ꯠ/month in spare parts so far. Besides seeing how many parts have been purchased and when they were purchased, Sun-Maid has been able to identify which parts seem to fail more frequently. "If we have a lot of failures in one area, we are able to see that and address it and find out why we buy so many of a particular part," Hobock says. "It is a nice feature because it keeps an ongoing record of all the parts you have bought for your machine." Hobock shares a recent example: "The horizontal pouch machine probably has 10 to 15 different heaters, but we seemed to replace two heaters every two to three weeks because they went out quite regularly. So we started investigating why. The heaters had a 90-degree angle where the wires went in. We found that it had a tendency to break, so we replaced those heaters with heaters that were straight. Now we haven't replaced any heaters in over six months."
Buying it Hobock says that about 40% of his time is saved by ordering online, just by eliminating paperwork. PPI worked with Sun-Maid to customize the ordering process of its spare parts. Sun-Maid maintenance personnel and supervisors are free to make spare parts purchases, but the order is not filled until a Sun-Maid purchasing representative logs on and assigns a purchase order number. An e-mail confirmation is instantly sent after the order is submitted. It includes the date the order was taken, the day it will be filled, and the day it will be shipped. Most of the time, Hobock says, the orders are shipped out the same day. "Before, with phone orders, if we didn't catch the sales representative, we would lose a day because they are in Florida, which is three hours ahead," Hobock says. "Now the order goes into the system, and it can be filled and delivered the next day or even the same day." Sun-Maid has added PartSource to its other PPI machines, now that the service is available. "When you buy a new machine, a fee is included for PartSource with the total cost," says Hobock. "To add an older machine online, like we did, costs $1ꯠ." Overall, he has found that online ordering of spare parts has saved time and made Sun-Maid's operation more efficient.
Companies in this article