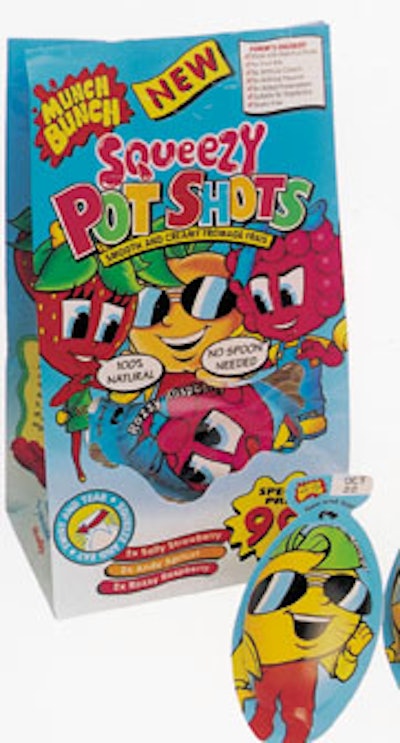 Three 40-g (1.41-oz) varieties of the Pot Shots were introduced in September 1999 by Eden Vale, the Cheshire County, England-based company of Northern Foods. Marketed to children under the age of six, Pot Shots are sold in oval-shaped containers that are easy for small hands to open by turning and tearing off the top of the individual pack. The two-piece packs are thermoformed, filled and heat-sealed on a Unifill TR86SC machine from Elopak (New Holland, MI). Cast-extruded film is used for the two film layers that create the pack. Eden Vale cited competitive reasons for not revealing material suppliers and film specifications.
Two pot shots of the three varieties—"Sally Strawberry," "Andy Apricot" and "Rozzy Raspberry"—are automatically packed into an outer film/foil bag. The automated process began in August 2000, replacing manual packing into a paper bag. While the new bag costs more, the labor savings and efficiency justified the equipment investment, according to Eden Vale marketing manager Antony Robson.
The six-pack bag sells in refrigerated cases throughout the U.K. for £1.19 (U.S. $1.68), with a 24-day shelf life. "Squeezy Pot Shots have taken three percent of the children's fromage frais market, and around 15 percent of the hand-held sector since its launch," says Robson.