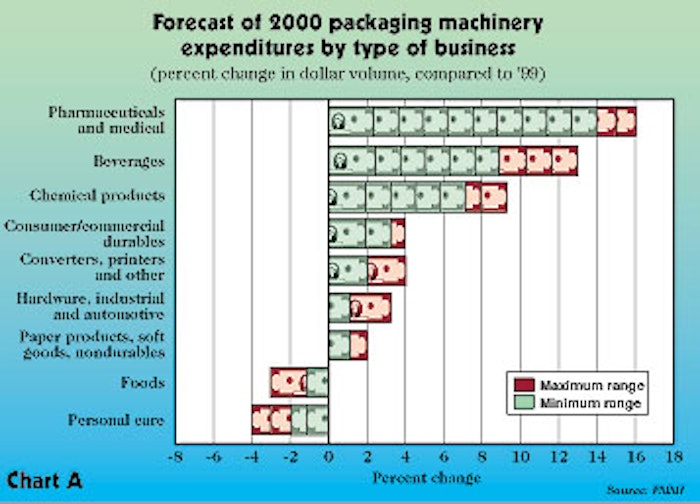 First the good news: Spending for packaging machinery by U.S. domestic companies is expected to rise 2% to 3% in 2000. The bad news: That projection pales in comparison to 1999's projected growth of 5% to 6%. This year's modest growth outlook was reported by the Packaging Machinery Manufacturers Institute (Arlington, VA) in the association's third annual U.S. Packaging Machinery Purchasing Plans Study, conducted earlier this year.
For the second consecutive year, makers of pharmaceutical/medical products and beverages rank first and second in terms of projected expenditure growth for packaging machinery sales (Chart A). Following those markets in sales forecasts were chemical products, consumer/commercial durables, converters, hardware/automotive/industrial and various non-durables. The only categories anticipating a decrease in spending were personal care products and foods.
Conducted for PMMI by Industrial Research Associates (Madison, CT), the study's findings were based on 401 in-depth telephone interviews conducted within various market sectors. The respondents represented 1꼬 plants, up from 1귩 last year.
Compared with 1999, about one in three (32.7%) respondents planned to spend more for packaging machinery this year, while 26.8% expected to spend less, with 34.9% expecting to spend about the same amount on machinery. Another 5.6% said they wouldn't purchase equipment in either year. The 5.9% difference between those planning to spend more on machinery this year than those planning to spend less is what the study refers to as a "positive breadth of the increase-versus-decrease data." While this year's number is positive, it's significantly down from last year's +12.9% figure.
The 61.7% of respondents that planned to spend either the same or less on machinery than last year "provide further evidence of the slowing trend," according to the summary. "The proportion of companies planning higher spending this year is smaller than last year, while the proportion planning to reduce spending is larger."
Slowing segments
Reduced spending was in large part attributable to the food segment. The summary said food manufacturers are the largest market for packaging machinery, accounting for about 40% of total shipments last year (Chart B). In 2000, the average food respondent said its company would spend 1% to 3% less on equipment than in '99. That projection was a strong factor in the study's decreased spending growth rate. Others included the growth of "eat-out and take-out food" sales at the expense of packaged foods, and additional shelf space devoted by supermarkets to nonfood items. Another factor: Industry consolidation is reducing the number of SKUs.
PMMI reports that machinery selling opportunities exist in prepared frozen foods, ready-to-eat meals, pet foods, snacks, baked goods, sauces, packaged salads and fresh vegetables. Fresh produce, pharmaceutical and medical categories also represent the top growth markets through the year 2005, as projected by a flexible materials study (see Packaging World, Sept. '00, p. 30, or packworld.com/go/flexreport).
Purchase expectations for machinery to pack personal care products call for 2% to 4% less spending this year. That's attributable to short-term sales weakness as retailers pare excess inventories and manufacturers' capital spending budgets are trimmed. This segment's decline, however, is less than 1999's projected sales decline of 4% to 6%.
Most segments to grow
Food and personal care product groups were exceptions to the rule. Seven of nine categories anticipated machinery sales to increase in 2000 compared to last year. Leading the parade of optimistic projections were pharmaceuticals and medical devices, where respondents forecast expenditure growth in the 14% to 16% range over '99. Fueling the medical segment growth: expanded output to meet growing healthcare needs, particularly among the aging; new product introductions such as nutraceuticals, accelerating demand for sterile medical packaging; and the anticipated growth of generic drug introductions.
Beverage company buying forecasts were also optimistic, with projections ranging between 9% and 11%. The summary says, "beverage producers appear to be replacing machinery at a higher-than-average rate to improve productivity." New container varieties, sizes and materials bode well for the category, as do increasing sales of bottled water, sports drinks, ready-to-drink teas and coffees, juices and other beverages.
Chemical products represented another strong category, with machine spending growth predicted at 7% to 9%. PMMI's summary said, "to the surprise of many, [this] segment will also represent a favorable market in 2000." It speculated that machinery demand is benefiting from higher volumes required by segments such as petroleum-based resins, lawn-and-garden chemicals, paint, caulking, copier printer/toner supplies and industrial specialty chemicals.
Other positive factors, the summary noted, include "Changes in packaging (e.g., to the stand-up pouch for some garden products as well as shifts to plastic bagging from multiwall)." Additional factors included "the resilient capital spending cycle of the chemical industry, the increasing emphasis on worker safety and ergonomics generating new business, and concerns about profitability, which lead to replacement of existing machinery with higher-tech upgrades."
Reasons to buy
As was the case last year, expansion of production/packaging capacity was cited as the main reason to order packaging machinery this year (Chart C). Close behind on the list of primary reasons to buy was replacing existing machinery. The third reason, the need to add new products, showed strong growth this year.
"In addition to the strain that new product introductions may exert on a plant's production capabilities, the new products often require different types of packaging than the existing machinery can handle," said the summary. "And where the additional products can be accommodated by older machinery, the burden of excessive downtime for changeover placed on packaging operations often justifies decisions to order new units that can offer quicker changeover capabilities."
The installation of machinery to reduce costs ranked fourth. "The need to reduce operating costs remains one of the most compelling reasons for packagers to order new machinery," reported the summary. "And with few exceptions, the more automated the packaging line—requiring fewer operators—the lower the operating cost."
Economic factors
On a macro-economic scale, the key growth catalysts in 2000 include "the strong domestic economy led by rising consumer demand, the wave of new products introduced to the market and the focus on improving manufacturing productivity and profitability by upgrading to higher-tech equipment."
Those factors nearly mirror last year's drivers. This year, however, there were "deterrents to spending growth" that have been dormant until now, said the report. "These include uncertainty regarding the future effects of higher interest rates on economic expansion and capital spending, heightened concern about profits and the increasing tendency toward indecision, project delays and cancellations created by the industry-wide proliferation of mergers and acquisitions."
The report broke down expected machinery expenditure increases and decreases for 2000 vs last year's actual expenditures. Of the companies who spent up to $250ꯠ on equipment in '99, 47.7% projected no change this year, while 35.4% projected a spending increase and 16.9% projected decreased spending. In the $250ꯠ to $1 million range, 39.6% forecasted no spending change this year, while 30.7% cited an increase and 29.7% planned to decrease spending. Of those buying more than $1 million worth of equipment last year, 36% expected no change this year, while 32.9% forecasted a decrease and 31.1% expected to spend more.
Buying restraints
Topping the list among general factors that are restraining machinery demand was "major purchases made last year." (Chart D). The response was rated the same last year, but by a substantially greater number of respondents. "The cycle of capital spending appears to be entering a late phase," noted the report. In 2000, a much larger number of respondents indicated that their "existing machinery is adequate."
The study said another spending control resulted from mergers and corporate restructurings that are "causing delays in project plans and complete abandonment of others. They are also reducing the number of potential machinery customers available in the market."
The study's summary also discussed new vs used machinery, rebuilt equipment, in-house manufacturing/building of packaging machinery by end users, the outlook for contract packaging, the importance of systems integrators and the growth of the Internet in relation to packaging machinery (Chart E).
With 2000 drawing to a close, it's important to bear in mind that this study's estimates were provided during the first quarter of the year. At that time, 52% of respondents believed their spending forecasts could end up higher than their estimates, while about 22% suggested there was a better chance that they'd spend less money than they planned. Higher-than-expected product volume was the factor seen by respondents as most likely to cause above-budget spending, followed by new product introductions, customer requirements, breakdowns in equipment or inordinate maintenance.
A shortfall in machine expenditures would most likely occur with a turndown in company sales or changes in budget priorities. "The findings suggest that more potential exists for expenditures to exceed the forecast of +2 percent to +3 percent than for expenditures to fall below the forecast," stated the summary. The survey is free to PMMI members; $495 for nonmembers.