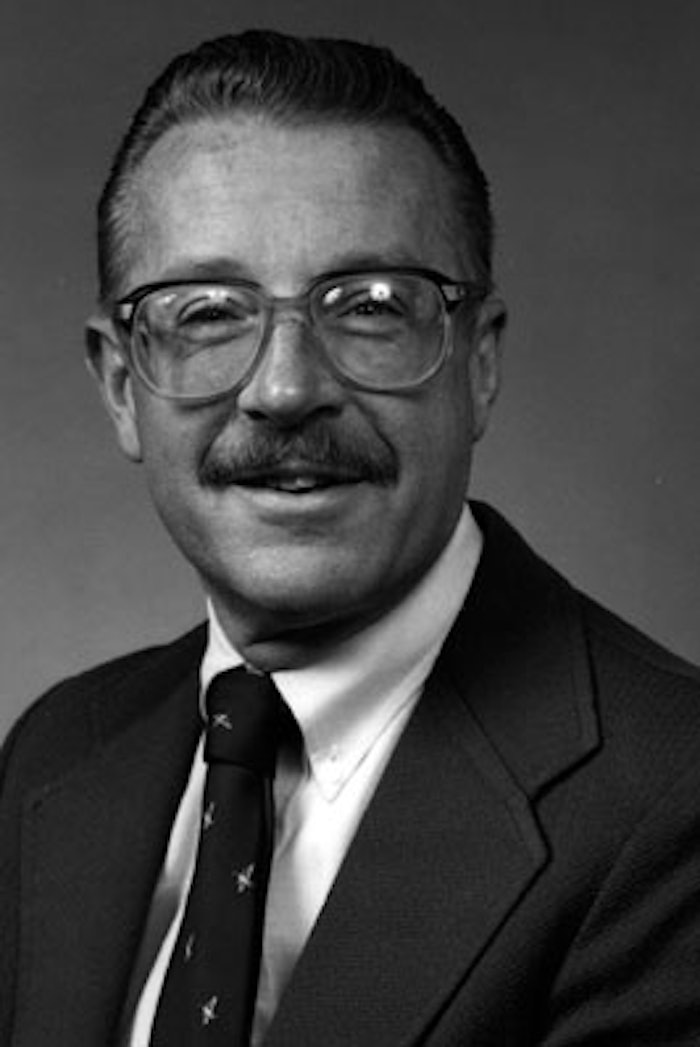 Three lifelong packaging professionals, each of whom had a distinguished career with a major packaging supplier, will be inducted into the Packaging Hall of Fame, Nov. 7, at the Packaging Education Foundation's annual Leadership Awards dinner. The event will be held at 6 p.m. at the Chicago Hilton & Towers.
The inductees are Robert Forsyth, retired vice president of National Starch & Chemical Co.; inventor/consultant William Heller, Jr., who spent many years with Milprint and John M. Johnston, retired president/ceo of Doboy Machinery, now part of SIG Pack.
"Chosen by a ballot of the members of the Packaging Education Forum, these three packaging professionals are recognized and held in high esteem for their many contributions to the packaging business," states Ben Miyares, president of the Forum. "In addition, each has made significant contributions to the area of packaging education. The PEF and the entire industry look forward to recognizing these packaging professionals."
Robert S. Forsyth, CPP, has been an internationally recognized authority on adhesives for most of his 45-year career. He retired from National Starch & Chemical as divisional vice president, international adhesives, in 1998. He holds a patent on hot melt moistening adhesives and has written technical articles on packaging applications that were published in many industry publications. He has served many industry organizations in leadership positions, including the Institute of Packaging Professionals (IoPP) as national chairman. IoPP has honored him as Member of the Year, and inducted him into its College of Fellows. He has been instrumental in the success of the Adhesives & Sealant Council, and he's also a member of the American Institute of Chemical Engineers and the Technical Assn. of the Pulp and Paper Industry. Forsyth holds a B.S. degree in chemical engineering from Lafayette College, and an M.S. of industrial engineering from Stevens Institute of Technology.
William C. Heller, Jr. has had a long and varied career in packaging, beginning with work at Milprint, a pioneer and advanced converter of flexible packaging materials. He served that company in both manufacturing and management until the early '60s, when he established a consulting business. He served as a foundation executive for many years, and he established scholarships at various universities, including a PEF scholarship in memory of his father at the University of Wisconsin at Stout for packaging majors needing financial assistance. He was a prolific inventor and holds or co-holds numerous patents in packaging, plastics, bonding of materials and imaging. He served as the founding chairman of the National Flexible Packaging Assn. and was instrumental in the establishment of its Product Specification Committee, from '56 to '59. He's also served with the Technical Assn. of Graphic Arts and the Gravure Foil Label Assn.
John M. Johnston is the retired president/ceo of Doboy Machinery and is recognized as a founding organizer in establishing programs designed to train individuals for employment in packaging at Dunwoody Institute, Hennepin Technical College and Wisconsin Indianhead Technical College. He was active in the Packaging Machinery Manufacturers Institute, serving as chairman of the Education Committee and a member of its Board of Directors. In these roles, Johnston helped initiate numerous self-instructional programs to assist training industry personnel in the operation and maintenance of packaging equipment. In further support of education, he was instrumental in donating his company's equipment, including installation, to virtually every school with a packaging laboratory.
Tickets for the PEF Leadership Awards dinner are $295/person, or $2귔 for a table of 10.
See the main story that goes with this sidebar: Electronics controls new technology at Pack Expo
Companies in this article