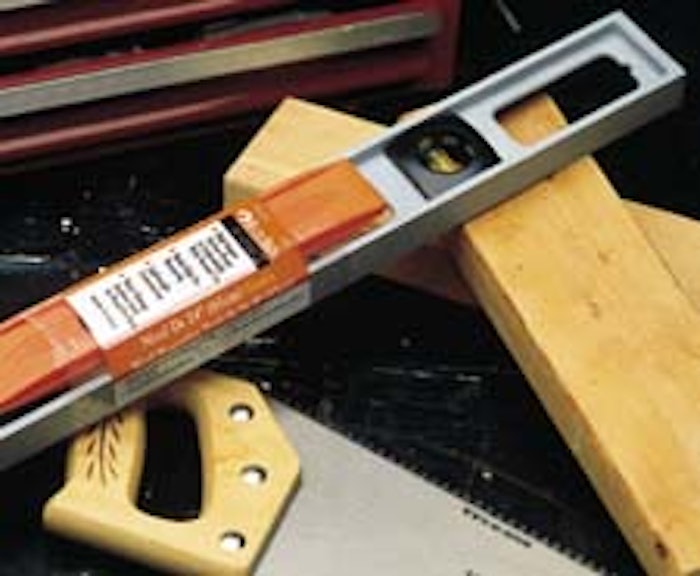 When John Stevens, vice president of Johnson City, TN-based Mayes Brothers, came up with the idea for a promotional package that would join two levels together for the price of one, he thought he was on to something. But after three attempts, he found himself scrambling to find a solution to problems such as damaged product in stores and returns caused by inefficient and flawed packaging. Mayes Brothers was even receiving complaints about the promotion from major retailers such as Menards, Wal-Mart, Lowes and The Home Depot.
"They got my attention real quick," Stevens says.
The promotion, a 9" plastic torpedo level nested into a much larger 24" level, began simply. Mayes Brothers covered the large level from top to bottom with a polyolefin shrink film and sent it through a Weldotron (Piscataway, NJ) shrink tunnel.
In addition to the shrink film, which covered the entire length of the 24" level, Mayes Brothers included a five-panel, plastic card printed with graphics and copy to identify the product.
Feeling that this involved too much material, and consequently cost too much, Stevens and colleagues sought another packaging method. They found a paper label that would serve a dual purpose by holding the two levels together as well as merchandising them with copy and graphics. Unfortunately, the label adhesive tended to dry out and the torpedo level would fall off.
As a quick fix, Mayes Brothers began using a 75-ga polyolefin shrink film to cover the paper label. This process seemed to solve the problem, Stevens says, but it was too costly and time consuming. "It worked fine, but did nothing but add cost to the product, and there's not a whole lot of extra room for cost," he added.
The simple solution
Finally, Stevens contacted J. Madison Allen, owner of American Packaging Systems (Johnson City, TN), an independent distributor for Integrity Seal Intl. (Wilkes Barre, PA). After several tests, Allen suggested a five-color, gravure-printed 3 ½ mil PVC shrink sleeve from Integrity Seal. It is manually applied then shrunk by the Weldotron system.
"Polyolefins are relatively expensive," Allen says. "Once we got down to the final numbers, and we knew what volumes were going to be, Mayes Brothers definitely came out ahead with the PVC."
Not only was Mayes Brothers able to save money, it began saving time as well. According to Allen, it took five to ten seconds to wrap the paper label, fasten it and run it through the shrink tunnel with the film. The PVC shrink sleeve takes about three seconds to apply. "Not only were there cost savings on a per unit basis but operationally as well," he says. "Now Mayes Brothers is doing about 1ꯠ units a day. When you're at that rate, any time you can save five seconds per unit, you've done something."
A major concern with the printed PVC was the shrink factor. Allen says there was some question about whether the bar code would be scannable or if the message would be garbled. After tests, Allen determined that if lined up correctly on the 1" high, 3" wide level, the shrink sleeve would situate itself correctly every time. "The key was positioning it on the level and putting it in the tunnel," he adds. "The two edges [of the sleeve] lined up well with the edges of the level. So we lined that up every time and sent it through the tunnel. It worked perfectly."
Stevens says he has been pleased with both American Packaging Systems and Integrity Seal's customer service and response time.
"I have been more than pleased," he says. "We were able to accomplish all the things we wanted to do. We could tell the story of the product, identify our company and stick the two parts together for a reliable display for as long as they're in the store."
Companies in this article